Wow. It's been one year since I published my first blog post. Can you believe it? Sometimes I can't believe anyone comes by to see what the heck is up with me. So a sincere thank you.
My first post,
Here I Am
, was a quick introductory post. The first commenters on my first post were
my husband
,
my sister
,
Rena Jones
,
Brenda Zirkle
, and
Jill Corcoran
(thanks!). My second post,
Paint It Black
, was about black fingernail polish. My third post,
Crazy B's
, was about a concert I had attended (what a surprise).
Through this first blogging year I have accumulated 155 posts, 11,287 hits, 50 followers, and most importantly several cyber friends I've connected through my blog and through reading their blogs.
So as a thank you to you all, I am having a lil contest. A caption contest. Look at the pic below, and give me your best caption (or comment).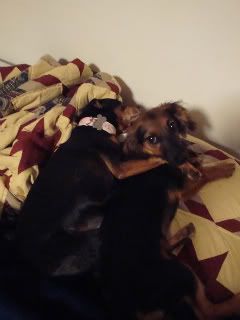 What will you win? You will win a pack of recycled pencils and an Ed Hardy notepad to scribble a quick writing idea or a grocery list in. You can be cool and be green at the same time! I wish I could give away more, but it's a recession, yo.
So give me your best caption (yes, those are my pups)! Contest closes on Sunday. I'll announce a winner on Monday!
And thanks a million for reading my blog!!!