I like to rock out. At first when people find this out about me, they are shocked. I'm a conservative mother of three, former grade school teacher, live by the rules kind of gal. I've never tried a drug in my life, my husband refers to me as "Cautious Kel," and I am an overprotective mother. So I guess you could say that my only rebellion in life is rock music. Of course it is a safe way to rebel, for I am Cautious Kel.
I got to be my alter ego, the Rock Rebel, last night. Yesterday my husband's aunt and I traveled 3 ½ hours to go to a rock concert. My first concert road trip! We had a great visit with relatives first, then set out to our music destination with two other cousins.
The original lineup was Avenged Sevenfold, Buckcherry, Shinedown, and Saving Abel. Avenged Sevenfold is one of my favorite groups right now. Unfortunately their fall tour was cancelled due to the singer's voice strain. I was disappointed they would not be performing, but knew that Buckcherry and Shinedown would bring it.
The four of us arrived as Saving Abel was finishing their set with their hit, "Addicted." Our seats were on the right side of the stage. We noticed the general admission area in front of the stage was not full. We traded in our seat tickets for general admission tickets at the box office (thanks to the resourcefulness of Aunt Beth). We like to see the bands close up and personal!
Shinedown was on next. They have some good hits like "Save Me" and "Devour." It was fun to see them live, but we were more excited about the next band, Buckcherry. If you aren't familiar with Buckcherry, their current hits include "Sorry," "Too Drunk," and "Crazy B*@tch." Josh Todd, the singer, is covered in colorful tattoos, and is quite vulgar in his songs and conversations to the audience. This man can put on an awesome show!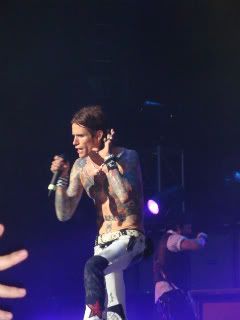 We were pretty close to the stage, in the mix with lots of teens, a few pushy guys, and near an old guy who decided to relieve himself right there on the floor. (No, I'm not kidding!) Despite the more pushy crowd than we are used to, we thoroughly enjoyed Buckcherry's set that ended with a ten minute rendition of "Crazy B*@tch." After much dancing, singing at the top of our lungs, and throwing out the devil horns in time to the music, the four crazy b's swung through Steak and Shake for some yummy shakes and a Diet Coke. We ended the night with great conversation with another cousin who was still up nursing her newborn and gave us a place to stay for the night.
Ahhhhh, good family fun.