Bish
is hosting a spooky Oktober blogfest today, and this weekend is the Halloween Hop at the blog of
Jeremy Bates
! I thought I'd combine these two fests in one post!
That's my sister and me in the top left picture. I'm a bunny; she's the clown. Aren't we sweet?
Here are a few fun fast H

a

l

l

o

w

e

e

n favorites of mine.
(Yes, I have a Scary Song mix on my iPod.)
Best Halloween Joke
: What do adult ghosts like to drink? BOOze.
Best Halloween candy
: I love so many kinds of candy, but my fave are Reese's peanut butter cups.
Best Halloween costume
: as a child - butterfly, as an adult- Wonder Woman
Best Vampire Show
:
True Blood
of course!
Tell me your favorites in the comments!
And for the Oktober Blogfest:
MY SCARIEST HALLOWEEN EVER!
My family loves Halloween. Each Halloween we have more family over, and we go trick-or-treating with the kids. One Halloween morning, I ran to the grocery store to get things for our upcoming family party. My husband was incapacitated with a terrible flu so he was banished to the basement. I needed help so I called my dad to watch my three children (ages newborn, 2, and 5 at the time) while I did a quick trip to the store.
When I returned, my daughter was lying on the floor and holding her face. Apparently, right before I opened the door, my oldest son was having a pillow fight with my 2 yr old daughter, and she got hurt and fell to the floor. She was dazed, her eyes were open, and she was crying a little. After I inspected her, she became extremely dazed and absolutely not herself. She is one spunky child, and she was staring into space and not responding to me. I raced her to the emergency room, crying and praying the whole way. I pulled over at one point because she was falling asleep or passing out (even at 2 she rarely took naps) in her carseat, and I was fearful for her. My dad ran to the neighbor to watch my other two so he could follow in his car.
The ER took her after awhile and diagnosed her with a scratched cornea. I do believe she had a concussion, but they didn't diagnose her with that. We came home, let her rest, dressed her in her adorable bunny costume, and then put her in a wagon for trick or treating. This wasn't the scariest health incident regarding my daughter as she's had worse medical diagnoses, but thankfully she is now a healthy (and still quite spunky) nine year old.
The funny thing about this story is my daughter (now in fourth grade) just wrote an essay about her best Halloween. She wrote about the one when she was a bunny and 2 years old. She totally missed the part of her being in the ER that day. Totally forgotten. I'm just glad she remembered the best part of the day!

This is my favorite Halloween picture of my children from that day.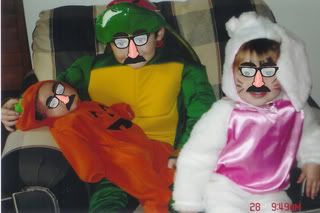 I am featuring a few horror movie actors at the
Book Recs of the Rock and Famous
tomorrow and Hal
low
een Monday! Find out tomorrow what a major movie star who started in a horror film is reading and on Monday I have one of the most recognizable horror movie characters ever! Please stop by and see what they are reading!