Yes, yes, yes. I've been sucked into the vampire hype. First, I started watching HBO show,
True Blood
, last year. Wow. It's campy, it's funny, it's suspenseful, it's graphic. I love that show. The second season ends on Sunday, and I am so disappointed that I won't be watching new episodes after Sunday (which I'll actually watch Monday because we are having people over for the Bears game Sunday night). The characters are such….characters! Sookie is strong and unique. Vampire Bill is such a protective Southerner. Eric the Nordic vampire somehow got even better looking this season. Jason is a riot. Tara has the most athletic body I have ever seen. Mariann was perfectly cast. I could go on and on. If you haven't seen it, start with the first season DVD.
I actually just finished the first book this series is based on,
Dead Until Dark
by Charlaine Harris. (I'm holding the book in above picture. Do you like my Tru Blood t-shirt?) Great book, but I do wish I'd read it before the series. I always like reading the book first then the movie, this is no exception. I do think the series does the book justice and even elaborates well on other characters. But I will try and catch up on the books before the next season hits.
I read the
Twilight
series in February and March of this year. My sister just recently read through the four books in a week! I did enjoy the series.
Eclipse
was my favorite. And I'm Team Jacob. I'm a dog lover, and he's just not as controlling as Edward. Not that Edward isn't dreamy… The movie was good, not great, but good. I will go see
New Moon
in the theaters this fall!
Also, I will watch the new fall show,
Vampire Diaries
, to get my vamp fix. In fact I'm going to watch it after I post this blog. I know it won't be as good as
True Blood
. But it will have to do.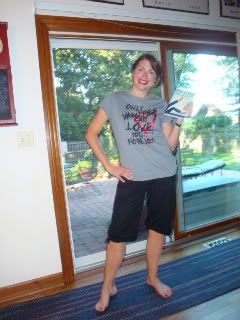 Like my other vampire tshirt? If you can't read it from the pic, it says, "Only vampires can love you forever." Here I am holding not a vampire book, but
Prada and Prejudice
by Blueboarder Mandy Hubbard! I won it on
Tabitha's blog
recently. Thank you, Tabitha! I have actually never read any Jane Austen. I am going to read
Pride and Prejudice
then this book. Just in case there are any fun parallels. I'm looking forward to it!
Are you into vampires too?