What a wonderful week in Blogland it has been. Why you ask?
I'll tell you why.
1. I received some awards from fellow bloggers!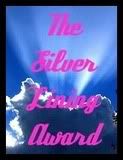 I bestow this honor to
3. I noticed I have some new follower friends! Thank you for adding my blog to your busy life! (and thanks to my regular bloggy buds too!)
6. I got my personal best score on Word Bubbles yesterday! Go Words!
8. I had two great, fulfilling days as a substitute teacher at the grade school my kids attend this week. I'm so glad that I have a vocation I can ease back into. Days like these confirm why I wanted to be a teacher in the first place. And I got to have lunch with my daughter one day!
9. My pup hasn't peed on the upstairs carpet once this week! :)
10. I hope your week is happy, too! Tell me one great thing that happened this week!