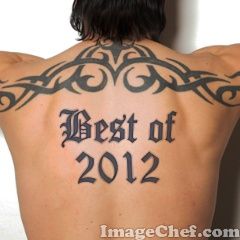 But I read some amazing books and listened to some awesome music.
Here's the roundup.
BOOKS
I generally read YA and MG, but books for adults dominated my nightstand this year, as well as some amazing indie titles. So many great novels. My fave book of the year? GONE GIRL by Gillian Flynn. Fave new author of the year? Leigh T. Moore. And yes, I even read the
Fifty Shades
trilogy. In the words of Anastasia, "Holy crap!"
Here's what I read, yo.
Dance on Fire by James Garcia Jr
Cold Cereal by Adam Rex
This Burns My Heart by Samuel Park
On the Bright Side by SR Johannes
The Book Thief by Markus Zusak
The Fourth Stall Part 2 by Chris Rylander
Pearl
by Jo Knowles
Definitely Dead
by Charlaine Harris
All Together Dead
by Charlaine Harris
Fifty Shades of Grey
by EL James
Fifty Shades Darker
by EL James
Fifty Shades Freed
by EL James
The Color of Bones
by Tracy Edward Wymer
Darth Paper Strikes Back
by Tom Angleberger
Hourglass
by Myra McEntire
The Classroom
by Robin Mellom
The Truth About Faking by Leigh T. Moore
The Raven Boys
by Maggie Stiefvater
My Very UnFairy Tale Life
by Anna Staniszewski
Rouge
by Leigh T. Moore
Gone Girl
by Gillian Flynn
Sean Griswold's Head
by Lindsey Leavitt
How To Survive Ancient Spells and Crazy Kings
by Laura Pauling
String Bridge
by Jessica Bell
MOVIES
On to movies. I'm not a huge movie watcher due to lack of time, but I noticed I rewatched a lot of classics this year, and of course, movies with my kiddos.
Phantom Menace 3D
Hugo
Hunger Games
The Avengers
The Amazing Spiderman
Magic Mike
The Three Stooges
ET
Hotel Transylvania
Dumb and Dumber
Fletch
Breaking Dawn 2
This is 40
Christmas Vacation
Elf
A Christmas Story
Diary of a Wimpy Kid: Dog Days
The Big Miracle
MUSIC
I love me some rock 'n' roll, so my top three rock songs of 2012 are these.
"Gluttony" by BUCKCHERRY (Got to hear this live a few weeks ago! Rated R btw.)
"You Waste Your Time" by TREMONTI (Awesome guitar riffs, and I won a signed guitar from this guy last year, too.)
"Still Swingin'" by PAPA ROACH (I get see hear this song live in a few weeks! If you lika da zombies, this video reminds me of the last book of Carrie Ryan's zombie trilogy!)
What are your favorite books, movies or songs of 2012?