Last week I saw one of the best live bands ever,
Papa Roach
, for the third time this summer! Seriously, I've seen many bands live and they are by far the best! Lead singer, Jacoby Shaddix, can get the crowd crazy! (In fact, I was bumped by moshers a few times during the concert). My mom, my hubby's aunt Beth, my friend Shanon and I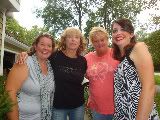 went to the Congress Theatre in Chicago to rock it out.
Here's a super short clip of a song that may be about Paris or Lindsay...and it shows how pumped up Jacoby gets the crowd!
They started the concert with "Kick in the Teeth" from their just released album. I love it, especially when having a hard day. One time I played it 12 times in a row on our way home from Wisconsin (I wasn't having a bad day, I just love the song). Here's some lyrics to my Tune for Tuesday:
Don't fight, or it deny it, invite it cause when it ..
Feels like a kick in the teeth, I can take it.
Throw your stones and you won't see me break it.
Say what you want, take your shots.
You're setting me free with one more kick in the teeth !
So, next time you are feeling a little ticked off, put on this song and turn this mother up! Or you can check out this pick me up post from Sharon Mayhew, too!
SOME WRITERLY STUFF:
*Don't forget: Tomorrow is the last day to enter Angela Ackerman at The Bookshelf Muse is celebrating 1000 followers (wow!) by having a fabulous contest that includes critiques and a mentorship! Check out details
HERE
quickly as the contest closes tomorrow!
* I was a contest winner again! Thank you to PJ Hoover for sending me
Nerds
by Michael Buckley. Also thanks to Candace Ganger and Elana Johnson for a beautiful homemade bookmark and
Life As We Knew It
by Susan Beth Pfeffer. I'm a lucky girl!