Last night was World Book Night. World Book Night U.S. is a celebration of books and reading. 25,000 volunteers across America gave a total of half a million books within their communities last night. I was fortunate enough to be a World Book Giver. I applied to be one earlier this year, and yesterday I gave away copies of
The Lightning Thief
by Rick Riordan to many lucky kids. My two oldest children devoured his series, so I hope this book sparks a love of reading for others.
Here is my box of awesome that I picked up from a local library (a cute little library called East River Library).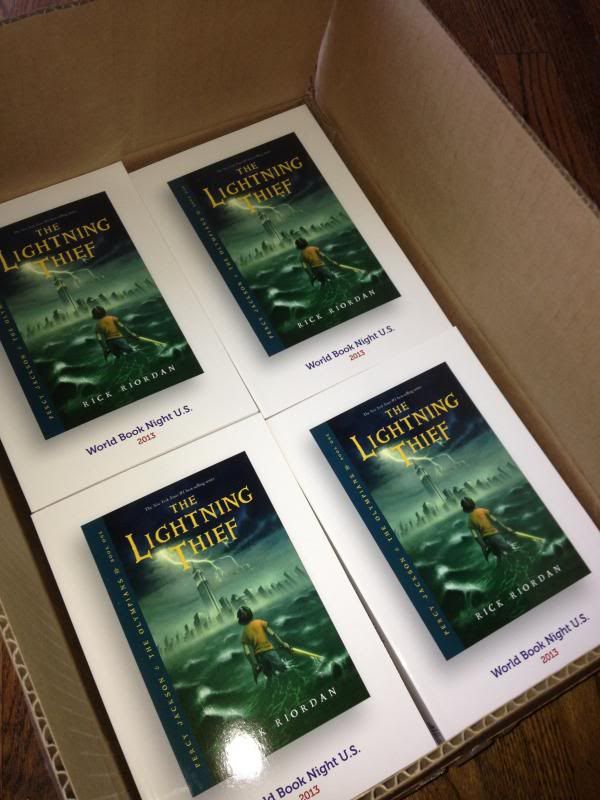 Due to heavy rain (again) in the Midwest, my original vision of skipping through the ball park giving away books to baseball players or their siblings was thwarted. But luckily I had a great back up plan. I attended my son's Cub Scout pack meeting and gave books to the older 4th grade boys. The boys were so polite and appreciative. It made my night! I wasn't able to give away all twenty books, so tonight I will give out my last five at the ball park.
This is such an amazing program, and I'm so proud to be a part of it. I love promoting literacy any way I can, and what better way but giving away free books. If you would like to apply to be a book giver next year, see
here for details
.