Last year my exercise routine usually involved walking on the treadmill 3-5 times a week while I watched my favorite soap opera,
The Young and the Restless
. The soap opera is a good motivator because I won't watch the show unless I am working out. And I have to know what is going on with Nick, Sharon and Phyllis!
I received Wii Fit for Christmas, so my exercise routine has taken a change - a change for the better. I still use the treadmill 3-4 times a week, but I add exercises or games from the Wii fit to enhance my workout. I love it! I am using muscles that have been long ignored for way too long. Also, it mixes things up a bit to make exercising more fun.
The first day we used the Wii Fit, each of my five family members did a weigh in, checked their BMI and did some of the training and games. We also set a goal to work toward. My children's goal was to maintain, because obviously I am not going to encourage any worries about weight. Plus they just want to play the games! My weight and BMI were at normal levels, but I could stand to be a little more fit. I set a goal of losing 9.9 pounds to make my ideal BMI according to the Wii Fit. Plus I have a high school reunion coming up, so dude, I am so going to get a bit more fit! After you weigh in, your Wii Mii character adjusts to your actual weight. My kids Mii's got string bean skinny, mine grew slightly around the waist, and my husband's Mii grew chubby. My kids thought this was hysterical!
I am thirty days into my Wii Fit trial. I am pleased at how I am consistent with the routine. I have worked out on the Wii 15 days in the month of January. My BMI has gone down slightly, and I've lost 2 1/2 pounds. Not dramatic, but slowly but surely I hope to reach my goal. I'm sure adjusting my eating habits will help me make my goal so I will try and do that little by little. That is much harder as I love my pizza and chocolate chip cookies!
Here are some silly pictures of some of the activities on my Wii Fit program.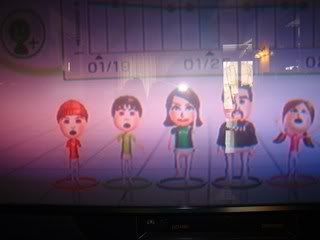 This is Wii Plaza where you choose which Mii will begin training. If you haven't checked in for a few days, your Mii falls asleep...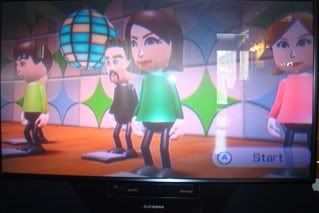 This is the aerobics step class. It also works on your rhythm.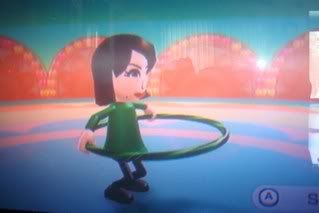 I like the hula hoop game, though I cannot beat my husband's score! I didn't know he could shake it like that!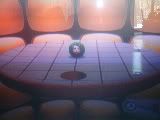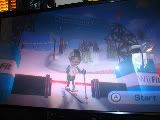 Above is a balance game (I need work) and obviously a skiing game. I ski just as good on the Wii as I do in real life (which is not so good...)!
Besides the aerobics and balance games shown, there are yoga and strengthening exercises to get you in shape. I do a few of those each time I check in as well.
How do you keep fit?