This weekend I am attending another concert. I'm going to see Avenged Sevenfold, Buckcherry, and Papa Roach. Today's tune is by one of these artists, Papa Roach. Papa Roach was formed in 1993, but their major label debut album,
Infest
, came out in 1999. Their first single, "Last Resort" became a radio success. Today's song comes from their fourth album,
The Paramour
Sessions
. Today's song, "To Be Loved," was the first single from this 2006 album. It was also the theme song to WWE Monday Night Raw (which I have never seen in my life nor plan to). But the song rocks! Their next album,
Metamorphosis
, drops March 24th.
I always liked Papa Roach's sound. "Last Resort," "She Loves Me Not," and "Forever" were some favorites of mine. Last summer they were part of the line up for the Cruefest concert fest which I was attending, so I purchased many songs before the concert. I ended up liking Papa Roach even more than their radio songs. When I saw them live in concert, my opinion of them changed even more dramatically. I have seen a lot of concerts, and I have never seen a frontman put as much energy into a concert than Papa Roach's lead singer, Jacoby Shaddix. He was all over the stage, came out into the crowd (see picture), and whether you liked the band or not, you could not help jumping up and down to the music. So after that concert, I became a huge Papa Roach fan. This band can bring it live.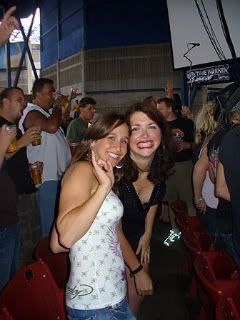 At Cruefest!
Listen up, turn it up and rock it out!
"To Be Loved" by Papa Roach:
Also, please check out
Christy's blog
! Leave a comment, and you have a chance to win P.J. Hoover's cool book,
The Emerald Tablet
!