I'm baaaack! My family had a fabulous trip filled with good rides, good food, good weather, and good family bonding. We stayed at the Animal Kingdom Lodge which allows you to watch animals like giraffes and zebras roam in the savannah off your balcony. Our favorite Disney restaurant, Jiko, is also located here. Here are a few of the many highlights of our trip.
Day 1 Animal Kingdom
We enjoyed the Kilimanjaro Safari ,
It's Tough to Be a Bug
4D show, and Dinosaur ride (see below). You can't see any of my three children because they are hiding! This ride is dark, bumpy, and scary. I liked it, but my four and six year old were a bit scared. The Maharaja Jungle Trek was fun walking around seeing exotic animals. We were a few feet away from giant bats! With no screen or windows to separate us! Yikes! My husband and I also enjoyed the rollercoaster, Expedition Everest.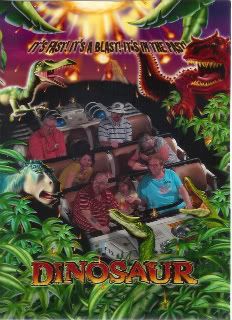 Day 2 Magic Kingdom
My top three rides were the Buzz Lightyear's Space Ranger Spin (my favorite), Space Mountain (my two oldest rode this for the first time), and Pirates of Caribbean ride. My kids favorite was Splash Mountain. I took my youngest to Monsters, Inc. Laugh Floor which is a cute interactive comedy show. The park was not too crowded so we enjoyed many different rides and attractions.
Later that night my husband and I went to Epcot while his parents watched the kids. We enjoyed sampling different foods at each country. Here we are having champagne, cheese and baguettes, and creme brulee in France!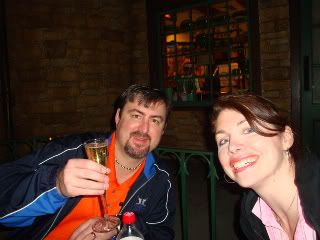 Day 3 Sea World
We enjoyed seeing the dolphins, manatees, alligators. We "Dined With Shamu" and had a great buffet lunch next to the killer whale tank and saw them up close. My favorite was the Atlantis water ride. My son's (in the green shirt) look is hilarious!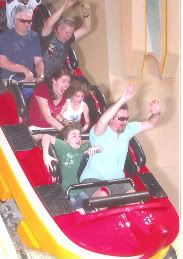 We had dinner in Epcot's Norway at Akershus with the Disney princesses.
Day 4 Downtown Disney
We had never been here before so we met my inlaws' friends here for lunch at TRex, a cool, loud prehistoric restaurant. We basically shopped and visited here. It was a good break from the parks. The kids liked the huge Lego store the best! I liked the huge Virgin megastore filled with music CD's and clothing.
Day 5 Hollywood Studios
The new Toy Story Mania ride is awesome! You try and hit targets throughout the ride. The kids and adults had so much fun on this ride. It was the longest wait in all the parks though! We are huge Star Wars fans so the Star Wars tour ride was fun. We also saw the Indiana Jones Epic Stunt Spectacular. I was even picked to be part of the show (see photo) ! The Tower of Terror is my favorite ride at Disney, but I had to skip it this day as my daughter got sick, and I whisked her back to the hotel.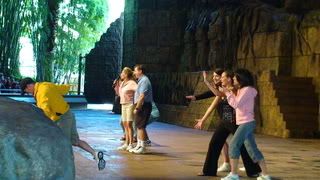 What a great getaway!