Today's tune is from a hard rock band called Brides of Destruction. Brides of Destruction is a band formed in 2002 by Motley Crue/Sixx AM bassist and lyricist Nikki Sixx and LA Guns lead guitarist Tracii Guns (who was also an original member of Guns and Roses). This band has released two albums,
Here Come
The Brides
and
Runaway Brides
. I own both albums and truly enjoy the hard guitar and punkish vibe from the group. Today's song is one of my favorites from their first album titled "I Don't Care."
My sister and I went to a BoD concert in 2005. I was pregnant with my third child so I called ahead to make sure I could get a balcony seat. I did not want to be on the general admission floor that I was sure would turn into a mosh pit. The venue was very accomodating and ushered my sister and I in first when the doors opened so I could get the seat of my choice. My baby also came in handy later when I asked security if we could meet Nikki so I could get a picture for the baby book. A security man told me no, but a security woman told me she'd see what she could do. We did end up waiting around after the concert and took these pics with Nikki Sixx and London LeGrand, the lead singer. I was a little starstruck as Nikki is one of my favorite musicians!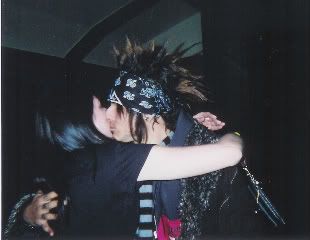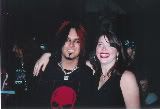 My next connection with the Brides came when my boys and I were able to have a brief cameo in the music video
for their single,
"White Trash"
from their second album.
Rock out to "I Don't Care."
Alas, Brides of Destruction is no longer. They broke up and the members moved on to other groups. Alas again, my internet has been out of commission so I will not be able to visit everyone's blogs for a few days. I'll catch up when it is up and ready again!