My sister,
Denise
, and I saw Smashing Pumpkins last night. Today's cinquain is about Billy Corgan, lead singer and songwriter of the band. Smashing Pumpkins celebrate 20 years of rock and roll this year…we saw a poster celebrating it at the concert titled: Twenty Years of Sadness. Billy is known to be eccentric, egocentric and full of angst; many of his songs reflect this. Last night he portrayed all of that, but more so, his extreme talent.
Billy
Creative soul
Twenty years of sadness
Decades of hits, sold out concerts
Lost boy
My girls' night out started with drinks at a local bar. My sister and I met with fellow blogger/YA author,
SL Hastings
, and her husband. We chatted about both of our husbands being wary of us meeting "cyberfriends." We shared writing stories and giggled over other funny stories from our lives. It was fun meeting a fellow blogger and writer.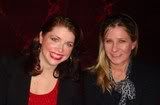 Denise and I then headed to the concert. We had awesome seats, and the band started soon after we got to the venue. The lights dimmed, and the band started playing. Billy entered in usual theatrical fashion as seen here.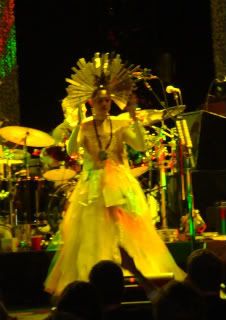 We enjoyed the 2 hour plus set of old hits and new tunes. Billy bantered a bit about Chicago sports (he is a huge fan), and related how his second concert was at this theater (the band, Asia). He had a cold and coughed and blew his nose a bit during the performance, but his vocals didn't suffer from it. Corgan sounded awesome. Tonight's show though was cancelled and rescheduled due to Corgan's illness.
The Pumpkins played twenty songs (no encore due to Billy's sickness). I don't mind listening to new songs, but they outnumbered the hits that they played. Also, many of the songs were drawn out with self-indulgent guitar by Billy, which I could have done without. He is a superb guitar player, but I really don't want to hear it go on and on!
Overall, it was a good concert. Billy is a talented entertainer. Jimmy Chamberlain was phenomenal at drums. But as many fans would say, I would have liked more hits; they have so many to choose from. Some of this is due to the next nights performance being totally different to this one (all different songs played), but they have enough hits to satisfy both nights, or repeat a song or two. My favorite songs of the night were "Tarantula," "Bullet" and their new single, "G.L.O.W." I liked their heavy guitars on "Heavy Metal Machine," but the song went on a little long.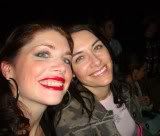 I read on the Smashing Pumpkin message boards that after many of his recent concerts, Billy ended it by lashing out at the fans and going on a tirade. I think it was probably supposed to be a statement or some theatrical release, but we did not get yelled at after this performance, probably because he was sick. I have to say I was a little disappointed, because I wanted to see everyone's reactions to it. I was also fully prepared to write on this blog, "Despite all his rage, Billy's still just a brat on the stage…"
But we were denied this rehearsed rant, which actually probably was for the better. He even said, "I love you all" to his fans…maybe illness makes him more human…
That's my wrap up. Good concert, still love their songs…Billy's still, well, Billy.