I comment on blogs, and I like it! I am participating in the Comment Challenge from
Mother Reader
. The goal is to comment on at least five kidlitosphere blogs a day. You keep track of your numbers, and report in on Wednesdays with Mother Reader. On Wednesday, November 26, there will be a final check-in post for the Comment Challenge. I've been exploring new blogs, learning new information, and keeping up with my favorite blogs, too! It's also a great networking tool. Spread the blog love, comment today!
My second challenge is
Buy Books for the Holidays
! Due to the weak economy, many industries are hurting, and publishing is one of them. This challenge will not only boost book sales, but the love of reading as well! I already shopped at Borders yesterday and left the store with a big ole bag of books for my family members.
My third challenge comes from
Rena
. She posted a beautiful wedding picture and asked others to do the same. Above is a picture of the day I became Mrs. Polark. It was a 93 degree day in June. The church we got married in did get air conditioning….two days after we married! The reception was a blast - lots of dancing and much love from family and friends. One of the best days of my life! Corny, but true!
Here are a few other pics in my wedding dress...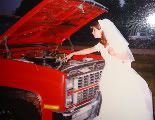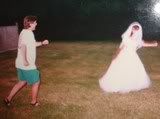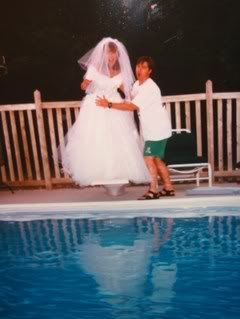 Join me in one or all three of these challenges! You know you want to!