On Saturday I was fortunate enough to attend the SCBWI Prairie Writers Day. The night before, I could not get to sleep as it was my first conference. I was so nervous and excited. I was like a little girl before the first day of school!
A friend from my writing group,
Ann Bryson
, accompanied me to this conference. It was fun to have someone to share the day with. As we pulled into the parking lot, I realized it was the wrong lot, so I went to back up (slowly, thank goodness) and heard a honk behind me! I exclaimed to Ann, "Well, I almost hit an editor!" Great way to start the day…luckily it was not an editor, but a very nice lady who was polite enough not to mention my driving faux pas when we met up with her. We entered the building, received our folder and name tags, and sat among 175 attendees who were anxious to learn and mingle with their peers and the guest speakers.
What amazing guest speakers! Our speakers included editors from different publishers: Harold Underdown who is a freelance editorial consultant, Martha Mihalick from Greenwillow, Cheryl Klein from Arthur A. Levine Books, and Caroline Meckler from Wendy Lamb Books. Our group learned more about the state of the industry from Harold, character from Martha, plot from Cheryl and voice from Caroline. All presentations were so thorough. The information presented refreshed what I do know and added to my knowledge of each topic. I am looking forward to using this information to revise my current projects. As guest speaker, Jennifer Rofe said, "When you think you are done, you're not!" Jennifer is an agent from Andrea Brown Literary Agency. I did not know much about agencies before this. She opened my eyes to what an agent does, which includes suggesting edits of the manuscript before sending it to publishers. Sharon Darrow's teaching session also emphasized revision. She gave some great helpful hints to revise poetry.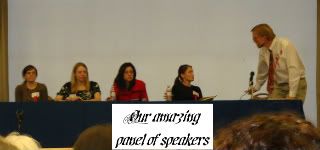 Besides recharging and filling up my think tank, this day allowed me to mingle with other authors. I was able to visit with some ladies from my local SCBWI chapter. I spoke with my poetry mentor,
Heidi Bee Roemer
, with whom I've taken a class from. I also met a fellow blogger and blueboarder,
Tabitha Olson
. Ann and I met many wonderful people who adore the writing process as much as we do.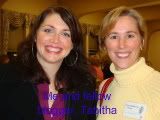 I left the conference refreshed, smarter, more confident, and definitely excited to revise my manuscripts and create more. And boy, did I sleep well when I got home that night, too!