Yesterday was all monkey business; today I'm getting serious. Because I seriously need help.
I will be speaking (and/or skyping) with two agents soon (thanks to you and
Shelli
!), and I have started a list of topics I want to talk about and questions I want to ask. I really want to make sure my list is thorough, so I don't end up with five minutes left talking about the weather or about the last concert I went to (well, actually I like talking about concerts to anyone who will listen to me, but I should be using this time more wisely...). Could you please help me brainstorm?
1. What question(s) would you ask?
2. What topic about publishing or querying would you want to know about more?
Thank you for your help with this.
Here are some appropriate tunes for Tuesday by some band you've probably never heard of.
Help!
(How'd Ringo get stuck with the umbrella?)
With A Little Help From My Friends
I've added onto today's post, because I've been generously awarded two awards in the last twenty four hours!
Rena Jones
, author of
A New Job for Dilly
and
Lemur Troops and Critter Groups
, awarded me with the Creative Writer Blogger Award. Thank you, Rena!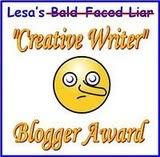 Here are the rules:
1. Thank the person who gave you the award and link them.
2. Add the award to your blog.
3. Tell six outrageous lies about yourself and one truth.
4. Nominate six creative liars ... I mean, writers and link them.
5. Let your nominees know they've been nominated.
Here are my five lies and one truth. Guess which one is the truth!
1. The summer before my senior year of college, I was a roller derby girl for the Windy City Rollers until I broke my wrist.
2. I attended the University of Illinois on scholarship for three of my four years there.
3. I have a small cameo in a Motley Crue video.
4. I was prom queen in high school, and my boyfriend at the time was prom king.
5. My minor in college was mathematics, but I have forgotten half of what I learned.
6. I write articles for the National Enquirer under a pen name.
7. My favorite meal on St. Patrick's Day is corned beef and cabbage.
I give this award to these creative people:
Jonathan
,
Heather
,
Tina
, (who all three so creatively created WIBIJ),
Anita
and
Murph
(because I want to hear what funny lies they come up with), and
Ray
at Big Plain V (because I'd like him to post more).
C. Lee McKenzie
, author of
Sliding on the Edge,
also awarded me The Sunshine Award! Thanks so much, Lee! I award it to anyone that reads this, because you took the time in your busy life to read my blog today. Thank you!