Books! Books! I love books! I have always loved to read, and now I, like many of you, share that love of reading with my three children. With three children (ages 4, 6, 9), I read a wide variety of children's literature. Each child has a bookcase bulging with books in his/her bedroom. We have bookcases in the living room and a basket full of books in two other rooms. Most nights I read a picture book to my four year old, a picture book or chapter of a chapter book to my first grader, and a chapter to my fourth grader. It gives me a little alone, snuggle time with each individual, and I love to hear each child's reaction to the book. Once in a while, I'll read a picture book or poetry to all of them at the same time. We have read some new publications and several classics in 2008.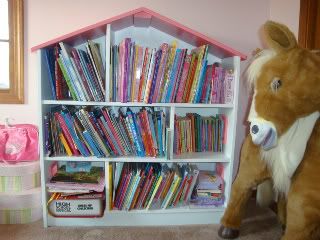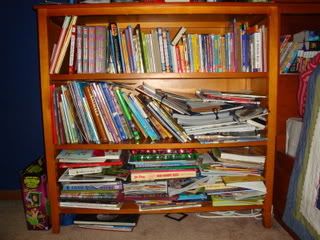 Here are some of my faves of the year:
My 4 year old, JD, is all boy. He loves to rough and tumble, he loves superheroes, he loves cars and trucks. Therefore we have to read the Spiderman, Transformers, Power Ranger thin paperback readers from the grocery store. Not my favorite, but boy, does he love them. I also sneak in my selections, maybe a Dr. Seuss or a Jane Yolen
How Do Dinosaurs
book from time to time. JD's new favorite is
Pajama Time!
by Sandra Boynton. We chant the words together then whisper together at the end. He also now asks me to kiss his cheek each time I turn the page, which just melts my heart! This year I also discovered Jon Scieszka's Trucktown series. I love the bright, animated illustrations, and JD loves the trucks.
My 6 year old, Lil Missy, has been a girly girl since day one. She is extremely dramatic, loves wearing dresses and skirts (though has been preferring jeans with her sparkly tops lately), and is a bit of a sassy one. And her room is pink, pink, pink! So naturally I enjoy reading the books with the spirited female main character to her. She loves all the Fancy Nancy books (as do I). My favorite is
Fancy Nancy and the Boy from Paris
. She also enjoys the Rainbow Fairy chapter books by Daisy Meadows. They aren't my favorite, but as long as she is interested, I'm game. We just started reading the Junie B. Jones series. I started with
Toothless Wonder
when she lost her first two teeth several weeks ago. Junie B. is hilarious, and I see much of her sass and independence in my daughter. We giggle together as we read through those.
My 9 year old, J-Man, devoured nonfiction. He loves to read about sharks, volcanoes, Guinness World Records. Then he got into a Pokemon fad, and we read as many Pokemon chapter story books as we could find. I found it more fun to read than nonfiction, but I can take only so much of Pikachu. He also read a few Star Wars chapter books-better, but they were geared more for adults. He loves
A Diary of a Wimpy Kid
, too. This fall I was thrilled when my mom and I convinced him to start reading the Harry Potter series. Once he started reading them, he was hooked! I have never seen him read books so voraciously. We are currently reading
Harry
Potter and the Order of the Phoenix
together. We also enjoy the movie together after each book is finished.
My fave books that I read with my kids in 2008 are the following:
Preschool:
Smash! Crash!
By Jon Scieszka
First Grade:
Junie B. First Grader: Jingle Bells, Batman Smells (PS So Does May)
by Barbara Parks
Fourth Grade:
Harry Potter and the Prisoner of Azkaban
by JK Rowling
All three:
Hush, Little Dragon
by Boni Ashburn
I'm looking forward to a 2009 packed with more reading and treasured time with my children.