If you read my blog regularly, you know that I am really into music. Due to my love of music, my children are exposed to music on a daily basis. When they were babies, I put on classical as well as my favorite rock tunes. Now we listen to mostly rock. While they are in their rooms, they may put on the Jonas Brothers or a Disney soundtrack. My nine year old's interest in music rivals my obsession . He surprised me this winter by purchasing a Megadeth CD with his Walmart gift card! Even I don't listen to Megadeth! He heard a song on the Playstation 2 Guitar Hero game. Since there was no parental warning, he gets to listen to it... My nine year old also started guitar lessons in the fall. I never learned to play an instrument and was thrilled that he took an interest. The J-Man is doing quite well. According to his guitar instructor, he is "an exceptional student to work with that is due to a dedicated drive to accomplish a task." Thankfully he is that dedicated in his schoolwork as well. Today's poem is about my favorite musician.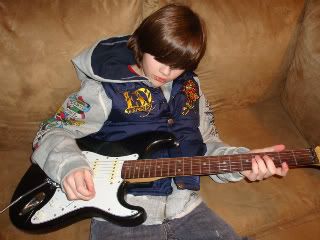 MY GUITAR HERO by Kelly Polark
Young boy with big goals.
Strums with determination,
Tugs at my heartstrings.
Today's poetry roundup is hosted by
Karen Edmisten
. Stop by her site for some wonderful links to poetry. POETRY ROCKS!