Don't even think about messing with that chick on the left.*
Basketball was a huge part of my life growing up. I started attending basketball games when I was old enough to walk. My dad was a basketball coach for a local high school. He started as freshman coach and then coached the boys' varsity team for 25 years (with 17 total championships). I am proud to say he was inducted in the Coaching Hall of Fame in our county, plus the Illinois Coaching Hall of Fame (Go, Dad!).
Needless to say, I've been to quite a few games in my lifetime. I figure I attended at least 10-20 of my dad's games every season with my mom since I was a young one. Then I played in my own basketball games 6th grade through high school. I played forward. I had my fair share of rebounds and fouls, too. My sister also played basketball, so I watched her games. So in high school, I played in my own games, sat through games of the other levels while waiting for my game, watched my boyfriend play his games, and watched a few of my dad's games. That's a whole lotta games. I probably smelled like a gym shoe in the winters of my high school life.
I also played intramural sports for my sorority in college, and we even won a three on three tournament once. Then there was a 15+ year hiatus where I'd attend my dad's teams' games here and there until he retired.
Now here I am in full basketball mode again. My son started playing organized basketball this year. He has 30 games this season. I have to admit I did push him into playing. He always enjoyed the game in gym and his friends played at recess all the time, so I knew he would like it. Of course we have a hoop in the driveway, too. I convinced him to commit to it for at least two years. Thankfully, he loves the game (and he even thanked me for getting him to join. Hurray!).
Last week my son's school had a fundraiser where the teachers/parents were able to play against the
Harlem Wizards
! A friend of mine recruited me to play. I was apprehensive as I hadn't played in SO long! We practiced a few times (man, I forgot how tiring it is to run up and down and up and down the court!), learned a simple offense, and we were ready to face the Wizards.
On the night of the game, my mother in law surprised me by having my parents, my inlaws, and kids wear white tshirts that said, "Team Kelly." (My ten year old was too embarrassed to wear it; he sat by his friends during the game.) The Wizards vs Grade School Teachers/Parents game was so much fun. The Wizards were dunking, dancing, having a ball (pun intended), and so did we. I even made a basket against them! If your child's school is looking for a unique fundraiser, this is definitely a good one! They travel all over the country.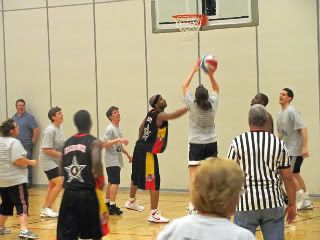 Here's me going up for the shot! Swish!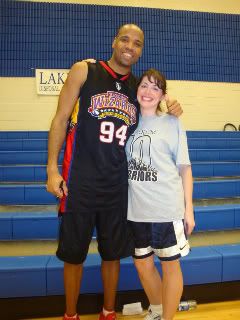 Me and Big Mike!
My kids were pretty excited that they saw me play, so that in itself was worth it all. I also rediscovered how much I love to play basketball. Too bad there aren't many women's leagues around this area. I guess I have to play hoops in the driveway with the kids. And that's fine by me.
Is there a sport or activity that has been a constant in your life? And can you believe this March post is about basketball, and I'm not even going to mention the NCAA tournament? (I don't really watch college hoops nor pro, but I did see Michael Jordan at the airport once!)
*Um. That's me in my glory days. Don't mess with me, man.