Kelly's Top 9 of '09
9. "Single Ladies" by Beyonce
8. "Jars" by Chevelle
7. "Paparazzi" by Lady Gaga
6.
"I Will Not Bow"
by Breaking Benjamin
5. "Uprising" by Muse
4. "Use Somebody" by Kings of Leon
3.
"Lifeline"
by Papa Roach
2. "Eyesore" by Janus
1.
"Black Heart Inertia"
by Incubus
Chicks ruled the music scene in 2009. Lady Gaga, Taylor Swift, and Beyonce (and let's not forget Miley Cyrus, Kelly Clarkson, Pink, Rihanna, and Katy Perry) all dominated the airwaves this year. Even this rocker had to download many of their pop songs this year, and two made my top 9 of '09 list.
Other 2009 music trivia:
*"Boom Boom Pow" by Black Eyed Peas was the most downloaded song on Itunes in 2009.
* The best selling album of 2009 was
Fearless
by Taylor Swift.
*The Grammy's will air on January 31. Yes, I will be watching (even though there is not enough rock 'n roll on it, I still love music). See this year's
Grammy nominees
. I'm hoping Kings of Leon will win the rock category. My son can't decide whether he wants Lamb of God, Slayer, or Megadeth to win the Metal category. Speaking of my son, look what he got from his grandma for Christmas! This bad boy is a Schecter Hellraiser! (Thankfully my son is not...)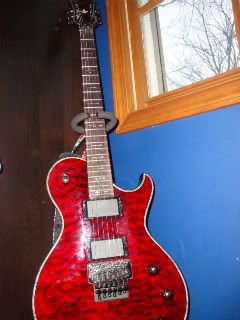 What was your favorite song of 2009?
Today's Tune for Tuesday is my number two song of 2009 (my number one song has already been a Tune for Tuesday). I've played this song repeatedly the last three weeks. I am hoping to see this band with Chevelle in February. Both Chevelle and Janus are bands from the Chicago area. In fact, when I first heard this song, I thought it was by Chevelle. They have a similar sound. And of course they both ROCK!
And for you pop lovers out there, here's "Single Ladies" by Beyonce. How can you not dance to this song? And how many of you have tried out these moves while hearing this song? (Of course, I have! Numerous times! You know you have, too! ;)