I've been wasting time lately on Facebook taking quizzes about music trivia, Harry Potter, and state capitals, listing celebrity crushes, and general Facebook chit chat. After taking the music quizzes and looking over my silly crush list, I realized that I haven't had a tune for my Tune for Tuesday by one of my favorite musical artists – Motley Crue. I liked the Crue in their heyday of the 80's, but never bought a Motley Crue CD until after I read the book,
The Dirt
, by Motley Crue in 2002.
The Dirt
is a detailed account of the highs and lows and general debauchery of the four members' lives. Motley Crue is Vince Neil (vocals), Mick Mars (lead guitar), Nikki Sixx (lyricist, bass guitar, and a crush of mine), and Tommy Lee (drums). The book is definitely entertaining, and they are definitely notorious bad boys. The book chronicles Vince's manslaughter charge and jail time, Mick's battle with a bone disease, Nikki's heroin addiction, Tommy's love life with blonde celebrities and his jail time, and crazy stories from tours in the eighties. I would read crazy parts aloud to my husband, because I could not believe they put some of this stuff that would make anyone cringe on paper.
After I read the book, I bought a greatest hits CD and listened to it over and over and over. I really liked their songs. I now knew the story behind some of them, and they were darn catchy. I became a fan, and bought many more of their CD's.
I saw them in concert in 2003 in March, then again in August of 2003. Their live show is amazing. At the August concert, I bought a special ticket that allowed me to meet them, get an item signed (the book), and get a picture with them plus get front row. My husband was appalled that a conservative girl like myself wanted to meet the same guys that did the dirty deeds that I read aloud to him. I went to the concert with my mom and sister, and it was my first concert ever with an actual front row seat. That experience was incredible in itself, but I do have to say it was also a thrill to meet the musicians that I frequently listened to. They were all very cordial, gave me a hug, and chatted with me briefly. I've seen them live two more times since then. The lead singer, Vince Neil, also tours as a solo act sometimes, and I've caught his concerts as well.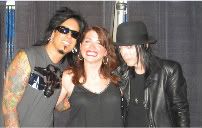 So, here is my favorite Motley Crue song. It isn't one of their big hits like "Girls, Girls, Girls" or "
Kickstart My Heart
." "Afraid" is from a 1997 album,
Generation Swine
.
Check it!