I'm baaaaaaaack. I had a great family vacation in Wisconsin and Iowa. (My blog went to the beach in St. Lucia, not me. She had a fab time!)
My week started with a surprise 30th birthday party for my husband's cousin. Usually when his big family gets together, it is kids and all and always a good time, but we hired sitters (teen cousins) for our small children so the adults could have a night out. Needless to say, we all had a silly, fun time out at the party (as seen here).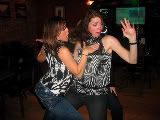 My family of five then headed to my inlaws' vacation home for the week with my inlaws. We had a relaxing week of swimming, reading, watching movies, doing puzzles. We took a hike one day through the trails in the woods and found a tree shaped like a P (see top pic)! I read Stephenie Meyer's Eclipse during the week as well (my favorite so far of her series). My hubby and children also videoed me dancing in different locations for my condensed Dance Off with Ely...They think I'm nuts. Now I have to figure out how to transfer it and edit it on my computer!
I'd say the most eventful thing happened while I was driving my hubby, his parents, and our three children home from dinner. It was twilight, and I am not the most confident driver in the world. During the ride we were actually discussing my refusal to ever drive in downtown Chicago, because it creates such anxiety for me. Anyhoo, I was driving and noticed a large looming figure coming toward me in my lane. I thought it looked like a cartoonish large man in a black overcoat at first as I started pushing on the brakes. Then I realized it was a huge, freaking BULL walking toward me! Thankfully the suburban stopped mere inches in front of this behemoth! It looked at us then went around our car. I was shaking all the way home. A deer crossed the road in front of me when we were almost home, too! Then my hubby and his mom drove back to make sure no one got hurt and pulled into the farm, and the bull followed them into the driveway then ran into the farm field. Crazy! And that is no bull.
We ended the week going back to Iowa for a night where a cousin trained my oldest son at a baseball facility then we had another big family night.
Lastly, April is Poetry Month! Congrats to
Laura Purdie Salas
! Today her newest book,
Stampede: Poems to Celebrate the Wild Side of School
comes out! Visit her launch party
here
!
Anything new happen in blogland while I was gone?