I love spring! One thing I love about spring is seeing all the beautiful birds at my bird feeders. My father is a bird nerd (Sorry, Dad. Love ya!) and helps me to identify all the different birds we see in our yard. He is also a very talented bird photographer whose photos have won many awards and been featured in several magazines. His beautiful portraits inspired me to write a book of poetry about birds. It was my first attempt at a poetry collection. The title is
Words on
Birds
. I have submitted it to different publishers, with no luck so far. If this bird book does not end up with a publisher, I will self publish the poetry with my dad's photographs for our family and other birders.
Here is one poem from my
Words on Birds
collection. The photograph is by my father, Tom Maple. My goal is to share facts about each bird in a fun way. Children could then possibly identify birds in their own backyards using these facts and looking at the stunning photographs.
Lisa Chellman
has the Poetry Roundup this week!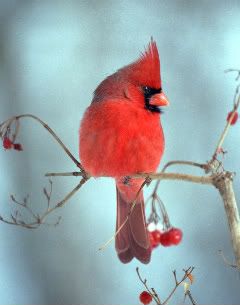 Photo copyright Tom Maple
NORTHERN CARDINAL
The beautiful cardinal is a vibrant red.
He's known for the crest upon his head.
His heavy bill is surrounded by black.
Bugs, fruit, and seeds are a favored snack.
A backyard favorite, high he rates.
He's the state bird of seven states.
-Kelly Polark, all rights reserved.