Happy Easter! I hope everyone had a great Easter weekend. We had a blessed weekend with lots of family events and a new family member. We adopted a new puppy on Saturday from Have a Heart Dog Rescue!
I've been looking at puppies on petfinder.com (a website that shows animals in shelters and rescues who are available for adoption) for months for just the right dog. My first dog ever,
Puppers
, died in December. We also have a 12 year old miniature pinscher, Goofy. We knew we wanted to get a puppy, since our kids never experienced the craziness of puppyhood. I saw a pup on petfinder.com that looked like a cross between Puppers and Goofy. She had Puppers soft, floppy ears and Goofy's black and tan color.
Puppers and Goofy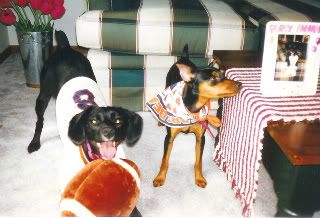 Here's our new pup, Daisy Mae!
Daisy's mom was rescued from southern Illinois. She was a pregnant stray. They think she is a King Charles cavalier spaniel or a cavalier spaniel mix. We don't know what kind of dog the father was so it will be interesting to see how Daisy looks when she grows up! We just knew she was adorable and needed a home.
The kids are beyond excited about their new puppy. First we had to decide on a name for this playful pup. We were debating between Brandy, Lily, and Sookie. Then I looked on the internet to look at female dog names. We added Lucky and Daisy to our list. The kids really liked Daisy, and we liked it, too. So she is Daisy!
Here's when Daisy met Goofy.
Happy Tails!
Here is some info from the dog rescue's website.
There are approximately 45 cats and dogs for every person born.
Only 1 out of 10 dogs born ever get a home.
Approximately 800 dogs & cats are KILLED each HOUR in the United States,because there are not enough homes for them!
Please SPAY and NEUTER! If looking for a pet, please rescue!