On Saturday, I was pleased to attend Anderson's Bookshop 9th Annual Children's Literature Breakfast. This breakfast included amazing keynote speakers like Mark Teague, Tim Green, and Weird Al Yankovic (yes, that Weird Al). Several Illinois authors also participated in this fabulous event.
KEYNOTE SPEAKERS
Trent Reed wrote Words in the Dust about an Afghan girl after serving there in the U.S. Army. Best quote: "Literature is an essential part of life-not a luxury."
Tim Green was definitely the most vivacious speaker. Green is an ex-NFL player, earned his law degree, and now has written several books for adults and middle school readers like Football Genius. And yes, he's handsome too. He visits schools and tells the kids this: "Take your talent and work like a maniac! Work maniacally until you throw up! Also, you need to be lucky along the way, so you need a back up plan with education. Know what you want to be - what you CAN be!"

Mark Teague, the fabulous illustrator of my favorite Jane Yolen Dinosaur books, showed us illustrations of his book, Firehouse! I loved how the dog in his book is inspired by his own Boston terrier.


Kathryn Lasky's books such as the Guardians of Ga'Hoole series are centered around animals. She said, "For the past ten years, I have written about animals and to be truthful, I don't really care for animals." And she really doesn't! Funny!


The last speaker was Al Yankovic. Not only is he a genius of parodies (and yes, I've even seen him in concert once as a teen), but a picture book author, too. Al did a fun Q&A, and he really is witty in person. When asked does he want to remembered as an author or a singer or a poet or question mark, he replied, "A question mark. An enigma."
He signed this book for my kids who have seen his "White and Nerdy" video a hundred times!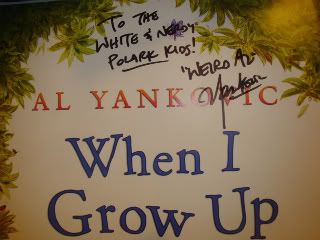 I also enjoyed meeting and chatting with these wonderful ILLINOIS AUTHORS!
Next to me is
Lori Degman
, the author of
1 Zany Zoo
which was also the winner in the Cheerio's Spoonful of Stories Contest. Next to her is Laura Ripes whose picture book,
The Spaghetti Slurping Sewer Serpent
is coming out next year! Both ladies attend the same local SCBWI chapter as I do!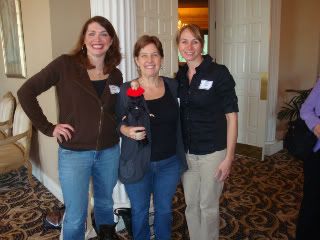 After reading a week of James Kennedy on
Murph's blog
, I was excited to meet the very funny
James Kennedy
, author of
The Order of Odd-Fish
. James helped launch the 90 Second Newbery Film Festival. Check out details
here.
Film one yourself or watch the clips! Deadline is September. I also just realized that James kind of resembles
James Spader
in this pic...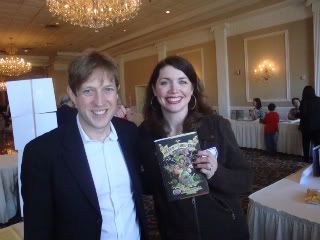 Yes, Hilary Wagner is as sweet and beautiful on the inside as she is on the outside. I was so glad to meet her in person. The sequel to her middle grade novel
Nightshade City
comes out in October!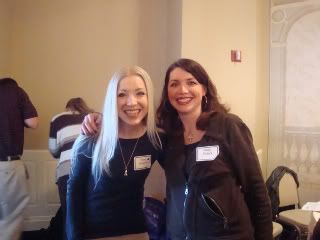 Who writes funny stuff about kissing zombie and American history plus gives ghost tours in Chicago? Adam Selzer, that's who. I am looking forward to reading
I Kissed a Zombie and I Liked It.
My children now like to sing that version of the Katy Perry song...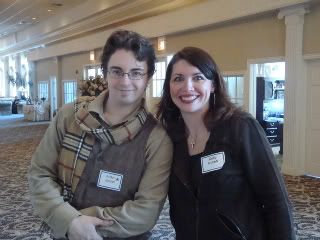 I also met the wonderful Cynthea Liu who signed
Paris Pan Takes the Dare
for my daughter. I wish I'd taken my picture with her! She was very helpful with a manuscript in one of her Red Light, Green Light critiques!
My Tune for Tuesday today is by of course, Weird Al Yankovic. Check out the hilarious "White and Nerdy."