Every day is Earth Day at the Polark house! We recycle regularly, use cloth napkins at dinner, use reusable grocery bags, buy and use energy efficient appliances (just had to buy a new washer, my old one just died), use non-toxic cleaners, and lower our thermostat (I wear sweatshirts to bed and use two comforters in the winter!).
And green is my favorite color! It seriously is!
My blog is even carbon neutral!
Yours can be, too! Click on the leaf for further instructions on how to have a tree planted. It's easy! Post this leaf on your blog, blog about it, email the link, and a tree will be planted!
Click
here for Laura's Seven Ways to be a Green Writer.
Find more tips to be green at
Ecowomen.net .

Like the shirt my husband is wearing today (above)?
I am wearing this shirt today.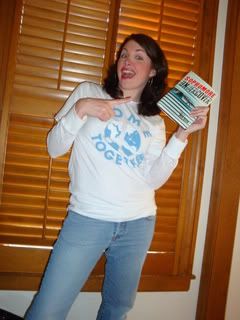 And my youngest son is wearing this today.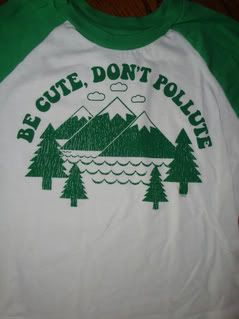 How are you kind to our planet?