I like Third Eye Blind. In fact I like them a lot. Their 1997 debut album is one of my favorite albums of all time. I saw them in concert in 1998 with my husband and his aunt and uncle. We had a blast. So his aunt Beth and I decided to get tickets to Third Eye Blind and get the boys out of the house to see them again.
We started the night out to dinner then went to a venue called Riverside Theater. It was beautiful and ornate with chandeliers hanging from the opulent ceilings. By the time we got there, the floor was packed so we watched from the balcony seats. The acoustics were not great up there, which was disappointing, but it was roomier to hang out and listen to Third Eye Blind there.
It wasn't the greatest concert despite my love for their music. It was sometimes difficult to hear the vocals over the music. The lead singer, Stephen Jenkins, seemed a little "out there" with his pontificating and bare feet.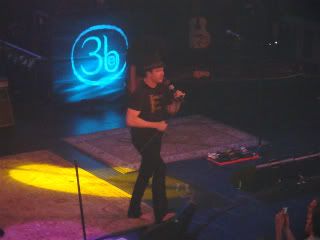 We did hear some of my favorite songs (my favorite song of the night was "Wounded"), plus four songs from their new album. We left early though before the encore, as we were meeting cousins that had gone to the Brewers/Reds game. Beth and I listened to their biggest hit "Semi Charmed Life" on the floor before we left, it was crowded, but the band did sound a little better there.
Here's a clip.
Afterwards we met cousin Anna and her fiancé at a restaurant to visit and snack a bit, then decided to go to yet another restaurant,
Real Chili
. It's one of my husband's favorite places for chili and if I go to Milwaukee for a concert, I usually stop there to get him a to go chili for the next day. So yes, besides the concert, we frequented three places to eat! Even though the concert was just okay, it was another fun night out with the family!
Here's today's tune for Tuesday. Third Eye Blind's 1998 hit song "How's It Going To Be."