Today I spent the day at a huge motorcycle rally called the Ironhorse Roundup. My sister owns a women's motorcycle apparel business called VaVaVroom, so my mom and I helped her sell her cool stuff in a booth at the event. If you want to check out her online site click
here
, or you can visit her blog
here
.
I don't ride a motorcycle (I'm Cautious Kel), but my sister does (she's much more adventurous than I am). She turned her passion into a business. The event was packed with motorcycles and people. There was a moto cross show throughout the day. We were astounded by the tricks these brave fools could do. Here's a pic!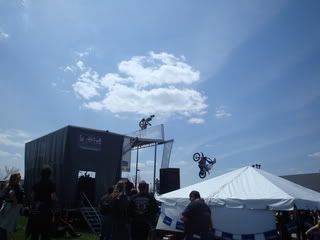 Bands played throughout the day. Vince Neil, the lead singer of Motley Crue, even sang for the crowd. I bailed on my sister's booth so I could rock out to some of my favorite songs. Her booth was close to the stage, so a nice fella let me into the side stage to watch close up. Here's Vince minus the Crue. If you remember the 80's band, Slaughter, they were his bandmates for this gig.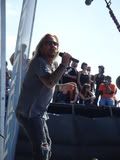 A fun day spent with family (and thousands of strangers).
Here's me with my sister and our mom!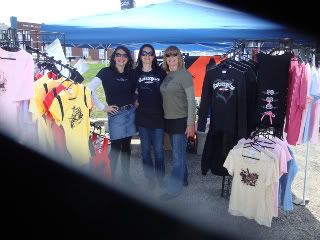 NaPiBoWriWee Update: I am not progressing very far in my picture book writing with my busy weekend. I did start a poetry book and have about 1/3 done, so I did accomplish something. I think it will be pretty tough to achieve the goal of seven books in seven days. But I will still try. It's a good motivator!