So tonight I am attending a concert. Yes, a concert. Very surprising, I know. I am seeing Buckcherry for the fourth time in nine months and Chevelle ( I am seeing them for the second time).
Chevelle was originally a trio of brothers who actually grew up not far from my hometown. The bassist, Joe, left (or was fired depending on which brother speaks of it) the band in 2005 and was replaced with a brother in law. It's nice they keep it in the family. Chevelle has sold almost 2 millions records and have released four albums. Their fifth album comes out this year. Some past radio hits include "Send the Pain Below," "The Red," and "I Get It."
The last time I saw Chevelle, a celebrity friend of theirs was there. My friend's sister mentioned that Steve-O was at the concert. So I saw him behind the bar and my friend and I yelled, "Steve-O! Hey Steve-O!" "Steve-O's" friend asked us if we wanted our picture with him, we replied, "Sure!" See the picture below.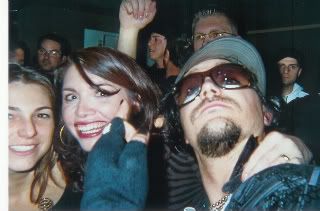 If you are saying to yourself, "Why that doesn't look like Steve-O!" You are right. It isn't. It's Bam Margera (also of
Jackass
fame and Mtv shows,
Viva La Bam
and
Unholy Union
). My hubby's 14 year old cousin is a big Bam fan and noticed a certain finger is up in the picture! Hmmmm, I guess he didn't like being called Steve-O! What's funny is I really do know the difference between Steve-O and Bam….I've seen Jackass AND Bam's Mtv show! I can't believe such a refined fellow like Bam would flip me off! ;)
Anyway, take a listen to one of my fave Chevelle songs, "Well Enough Alone". It is rumored that this song is about the brother leaving the band.