I am a newbie to Poetry Friday, so thank you for allowing me to participate in this Poetry Lovefest! Today's Poetry Friday roundup is hosted by
Mommy's Favorite Children's Books
. Come check out all the cool poetry links for today!
My tree is up. Snow is on the ground. I am bundled in a sweater. Winter weather is here! During the holidays, I so enjoy gazing at all the beautiful lights on houses as I drive from place to place. It seems to make my night driving a little more cheerful, a lot more bright! My hubby put lights up along our house a few days ago.
Lights twinkle at me.
Vibrant colors shine the way.
They welcome me home.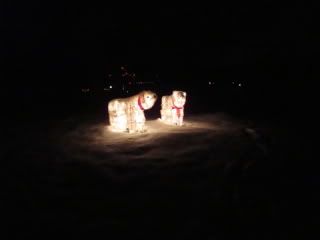 Our Polar(k) Bears