As many of you know, last week I took a road trip with my best friend, Becky. Becky, our other best friend Mary (who now lives in Spain), and I grew up in the same neighborhood. We flew to Fort Myers, Florida on Sunday night. I was a little nervous being away from my kids for so long (I cried when they left!), but I knew that a getaway would be good for a mom of three who rarely gets a day away, let alone five!
The plane ride started out as silly as expected. Becky and I were talking in our seats, and I was holding my Us Weekly magazine against my face as we spoke. Later Becky says, "Kelly, you have blue stripes on your face!" (see picture) We giggled and giggled. (Sorry to the man next to us, we probably laughed and talked most of the trip) Then the beverage guy comes along and I drink my water in about one gulp. A few minutes later, he asks if I want more (Why, yes I do!) Becky asks if she could have some more Coke. (Why, yes she can.) I tell Becky that I brought some Reese's peanut butter cups for us in my purse. I hand her stuff in my purse as I dig through it for chocolate! Then her filled to the brim cup full of Coke decides to slide down the tray and all over my lap! So my pants are soaked. What do we do? We laugh. Then laugh some more. What else can you do?
That night we ate a nice dinner out and slept at her parents' house. The next morning we took a walk with her dad and his dog to coffee where many neighbors congregate with their dogs. We had chocolate milk (we don't drink coffee). We walked about three miles (me in sandals) then her parents drove us to beautiful Captiva Island. We ate lunch and layed next to the pool overlooking the ocean. It was heavenly. I was so relaxed. I haven't layed by a pool minus kids in over ten years! We had a delicious dinner and hit the sack since our three day trek in the car home would start the next morning.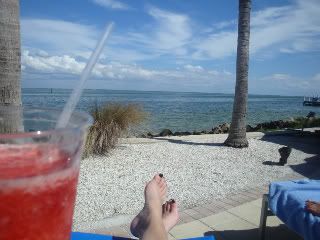 Next day we got up and started our 1400+ mile trek home. Has anyone else driven in northern Florida? I have never seen so many billboards for strip clubs in my life! Yikes! During the long ride we also had my iPod going and talked, talked, and talked some more. Becky and I also were excited to see cotton fields for the first time. We made it to Macon, Georgia, ate at a Mexican restaurant, checked Facebook, and went to bed.
On Wednesday we drove to Atlanta, Georgia. What a clean, picturesque city! Becky and I also noted that people were extra friendly in the south. We stopped at World of Coca Cola. Becky and I are both fans of Coke, so we knew we'd get a kick out of it. We saw lots of Coke memoribilia, saw a few short films and a 4D show. The best part was going to the Tasting Room. There were over 60 Coca Cola products from all over the world in fountain stations. We tasted Inca Cola from Peru, raspberry tea from Spain, my favorite Barq's Red Cream Soda, and more. It was fun walking around sipping different drinks. Most were good, some were not! I also bought a red Coca Cola tshirt made from recyclable bottles!
Here's the Coca Cola polar bear with us. I thought he was a statue because he didn't move for the first couple, but when I approached him, he reached to grab me and I screamed!!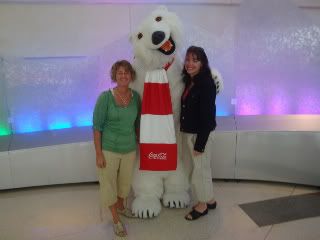 After Atlanta, we drove until 8pm until we reached Mount Vernon, Illinois. We ate in a sports bar in the hotel, and I seriously went to sleep right when my head hit the pillow. It was a long day (and yes, we were still talking incessantly the whole way!). More tomorrow...