Last Thursday my sister and I attended the
Dare 2 Dream benefit concert
to hear some great music and to support pediatric blood cancer research. When I was a teacher, one of the students (who was also the daughter of a bus driver) at our school died of leukemia. It was absolutely heartbreaking. Cancer is such a difficult illness in the first place, but when it affects a child it is all the more tragic. We were happy to be part of this event and support the children in need. Of course I'm happy to listen to live music, so to listen to it and support a great cause is twice as nice!
I took the train to Chicago to meet my sister Denise, and we walked in to the House of Blues in time to hear the second musical act, The Lovehammers. Does anyone remember the NBC show,
Rockstar: INXS
where the members of INXS tried to find a new lead singer? I loved that show, and the runner up was the singer,
Marty Casey
, from the Lovehammers, a Chicago area band. Marty Casey also attended the University of Illinois a few years behind me! I had always wanted to see the Lovehammers, so I was excited to finally hear them live. They were great!
Next was Gavin Rossdale - lead singer of 90's band Bush, husband of Gwen Stefani, and now solo artist. Last year I bought several songs from his latest solo album,
Wanderlust
. His song, "Love Remains the Same" was a featured Tune for Tuesday also last year. This was my first time seeing him live, and I love his music even more now! A 6'1", very lean and muscular Gavin played several songs from his Bush career like "Machinehead," "Glycerine," and "Come Down." He also played favorites of mine from his solo album and sang a cover of Stevie Nick's "Landslide," another one of my favorite songs. Here is the actual set list. (Thanks to Tony for the pics, I had to check my camera at the concert!)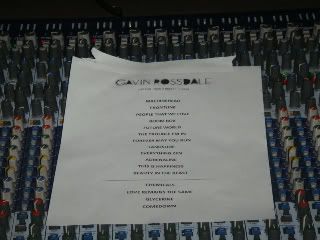 This man can rock it out and make the ladies swoon. During the rock songs, he jumped up and down and headbanged so much I thought he was going to bump his head on the microphone stand! During the slower songs, he'd hold onto a (very lucky) front row gal's hand and look into her eyes and sing the song to them! He did this with many of the ladies in the front row, and they were smiling ear to ear. (And I tell you next Gavin Rossdale concert I go to, I am getting my buttinsky in that front row!!) My sis and I were pretty darn close to the stage, but I'm getting to the venue earlier next time to secure a front row spot! That man is one swoon worthy rockstar!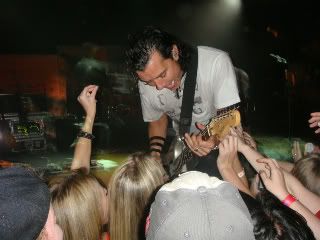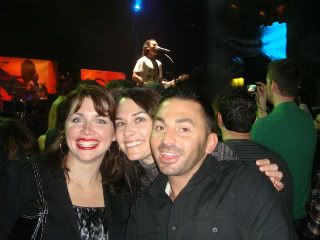 My sister and I had a fun girly night out. The benefit ended at 9:30 (this old lady wishes all concerts ended this early!), so we went out for a martini (chocolate martini for me) afterwards. And I learned a have a very low tolerance for hard liquor. One martini got me loopy I tell you!