Oh, yes, I did. I saw
New Moon
this weekend. Did you hear that it broke the record for biggest opening day? So like so many of the female persuasion, Friday night was girl's night out to the movie theater. We arrived almost an hour early to make sure we got a seat. I purchased my ticket earlier in the week through Fandango.com. My dinner that night was buttered popcorn and these tasty treats.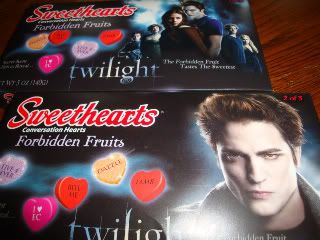 I have never gone to a movie on opening weekend before. Even though the screaming teenage girls were loud, I had fun observing which parts they liked and which parts they thought were cheesy. I was surprised that Jacob received more hoots and hollers when he first appeared on the screen than Edward (though he got plenty of catcalls). The biggest burst of cheers and screams came when Jacob took off his shirt to mop up the blood on Bella's forehead (if you saw it, I know you remember that seen!). There were a few parts that many girls burst out laughing (one being of a scene where Bella and Edward run through a meadow). It was a cheesy scene, so I laughed at the scene and at the laughter too. The book of course was better, but the movie entertained me. It was good, not great, but I enjoyed my night at the movies.
What amazed and surprised me most about New Moon was the number of people I knew that saw it on opening weekend. Like I said, I rarely go to the movie theater, let alone on opening weekend. On Facebook, there were so many posts of friends going to see New Moon. I went to a family birthday party and many of the ladies just went to the movie or were planning on going the next day. Amazing! We enjoyed hashing over the scenes and of course stating whether we were Team Edward or Team Jacob. (I'm Team Jacob) Are you a sucker for Edward or do you howl for Jacob (I stole that cheesy line from an article by the way)?
Also, did anyone else notice that the movie was released during the week of the new moon of this month???? Eclipse is my favorite book of the series, so I will certainly be in the theater watching that movie next summer!