Last night I had the pleasure of meeting author/teacher/facilitator/speaker
Esther Hershenhorn
at my local SCBWI chapter meeting. Esther is the author of a fabulous new book for children (and us writers) titled
S is for Story: A Writer's Alphabet
published by Sleeping Bear Press. This wonderful book is beautifully illustrated by
Zachary Pullen
. Isn't the cover fantastic?
Esther is the former Regional Director of Illinois SCBWI. Not only is she an author, but she teaches adult "Writing for Children" courses and facilitates Young Writers Workshops at schools.
Last night Esther detailed her journey from proposal to publication for us. Sleeping Bear Press alphabet books are all similar in format. They share the ABC's in rhyming couplets for little ones to enjoy, then there is a sidebar with further information about the topic (about 180 words worth of info). Esther also added a quote from an author for each subject as well. One of my favorite quotes in the book is by Linda Sue Park. Esther called her up to ask her for a riveting quote on plot for the letter P. She came up with a great one: "If everything goes smoothly, it's not a story!"
After she spoke, Esther signed books for us. Here she is signing one for my three kids.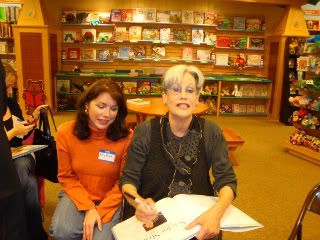 Esther is such a lovely and lively woman. Her presentation was informative and entertaining, and I love her new book. Visit Esther on her
website
and
blog!
Her recent blog entries tell more about
S is for Story
!