You all know how much I love music. Today
Cassastar
author
Alex Cavanaugh
is hosting a Top Ten Songs blogfest. Head to
his blog
to check out more lists! There are so many different genres of music, so many talented musicians, I am certain no list will be the same. I'm excited to check everyone's out.
I tell you, it was tough to choose only ten of my top ten songs of all time. They may not be the best songs ever written; most have not won Grammy awards, but these are songs that I can listen to over and over again without getting sick of them.
Honorable Mentions:
Again, it was so hard to narrow these down so here are a few more: "Tyler" by The Toadies, "Black Heart Inertia" by Incubus, "Everything" by Buckcherry, "In My Life" by the Beatles, "Send the Pain Below" by Chevelle, "Careless Memories" by Duran Duran. C'mon this was tough for me!
Here are
MY TOP TEN
songs with a pic of the band taken by me (or of me) at a concert. I also added the first line of the song. Thanks for coming by and rockin' it with me!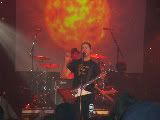 "Semi Charmed Life"
by Third Eye Blind - catchiest song ever
I'm packed and I'm holding,
I'm smiling, she's living, she's golden and
she lives for me, She says she lives for me,
Ovation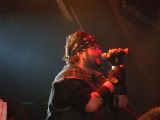 "Rest in Pieces"
by Saliva - beautiful rock song
Look at me, my depth perception must be off again
Cause this hurts deeper than I thought it did
It has not healed with time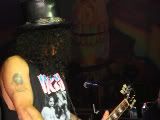 "Sweet Child of Mine"
by Guns N Roses - great guitar riff, classic song of my youth
She's got a smile that it seems to me
Reminds me of childhood memories
Where everything was as fresh as the bright blue sky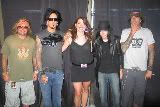 "Wild Side"
by Motley Crue - torn between this and Crue's "Afraid", but this won because it's good ole classic rock 'n' roll
Kneel down ye sinners, to
Streetwise religion
Greed's been crowned the new King"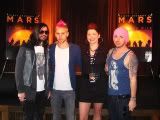 "The Kill"
by 30 Seconds to Mars - Love Jared's vocals
What if I wanted to break
Laugh it all off in your face
What would you do?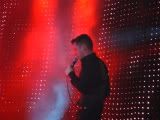 "Somebody Told Me"
by the Killers - Great danceable, catchy song
Breaking my back just to know your name
Seventeen tracks and I've had it with this game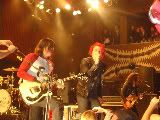 "Famous Last Words"
by My Chemical Romance - I just love it. Probably my favorite song to sing along to.
Now I know, that I can't make you stay.
But where's your heart?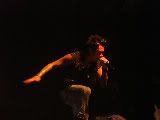 "To Be Loved"
by Papa Roach - My favorite song to scream to and jump up and down to at a concert
Listen up, turn it up and rock it out.
Party on, I wanna hear you scream and shout.


"All My Life"
by Foo Fighters - Love the beginning and when it gets frantic
All my life I've been searching for something
Something never comes, never leads to nothing
Nothing satisfies, but I'm getting close
Closer to the prize at the end of the rope.


"Unholy Confessions"
by Avenged Sevenfold - Best beginning guitar riff ever. Most excellent drums and guitar on any song.
"Why try," she said as she walked away.
Tried not to lose you.
Two vibrant hearts could change.
What is your favorite song of all time?