I'm continuing my Dear Diary series just for kicks in case anyone wants to laugh at little Kelly or to gain some insight on a certain age group for their works in progress!
As I was perusing through my diary to decide which entry I'd put next, I discovered two things. One, I jumped around in my diary and it is not in chronological order which is currently not very helpful and two, I wrote about boys. A lot. I started writing about which boys were cute in third grade! Do girls already notice boys this young? My daughter had a "boyfriend" in first grade so I guess I unfortunately know the answer to that question. And she is her mother's daughter. My oldest son rarely mentions girls, but I have a feeling he notices them by now. Most of my diary entries from fifth grade through junior high are about, you guessed it, BOYS!
This is a peek at an entry from fourth grade, age nine.
(Some names may or may not have been changed to protect the hotties, I mean innocent. My present day comments are in red.)
This is me from my fourth grade class picture. This fashionable fourth grader is wearing a velour top of her favorite shades of blue with light blue cordoroys. The Coke bottle glasses finish the look. Was I a babe magnet or what? HA!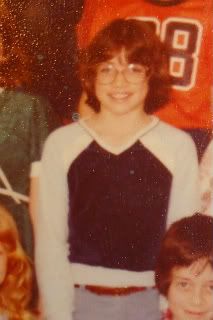 Saturday, Feb 7
Dear Diary,
In school we are doing reports. I am doing it on rabbits.

I HAD A BEAUTIFUL PET RABBIT NAMED ZIGGY.

Lori already finished hers. My report is better though.

DID I MENTION I WAS HUMBLE?

I am almost finished. I'm still hoping that Les, Jon, and Brian like me.

NOTICE I PUT AND - NOT OR. I SHOULD ALSO MENTION THAT LES WAS A 17 YEAR OLD BASKETBALL PLAYER ON MY DAD'S TEAM THAT I NEVER SPOKE TO ONCE. DID I REALLY THINK I HAD A CHANCE WITH HIM?!

I want be a veterinarian, a teacher or something to do with animals when I grow up.

GLAD I ENDED ON AN ASPIRATIONAL NOTE.
And what can we learn from this?
One, you are never too young to appreciate the opposite sex.
Two, sometimes a grade schooler's view can be totally out of whack (a high schooler?!).
Three, you can dream big and many do come true! (I did become a teacher and had a date with the Jon mentioned four years later.)
What childhood dreams of yours came true?