It's over. What am I going to do now? The season finale of the third season of
True Blood
aired Sunday night. It was fantabulous, shocking, grotesque, and off the chain as usual. But now what will I do on Sunday nights? I contemplated with my husband what to do about this last episode. We thought maybe we'd watch two minutes a week to make the last episode last, but we couldn't hold out. We had to watch it! I seriously have not ever loved a TV show like I love this one. It's bordering obsession. Why?
I'll Tell You Why

1. Eric Northman (and no this isn't the last time you'll see that pic at the left).
2. It's a show my husband and I both love to watch together.
3. It's funny. Watch this
funny scene
of a vampire texting an expletive. (Franklin was one hilariously insane vampire!)
4. It's suspenseful, even if you've read the Sookie Stackhouse novels.
5. Eric Northman - not just because he's gorgeous, but the character is humorous, complex and unpredictable.
6. It's shocking. Have you ever seen vampire goo being carried around in a fancy jar?
7. I love Sookie's southern accent and the way
Bill says, "Sookie
."
8. Handsome hardbodies. (Not only Eric, but Jason, Alcide, Bill, Sam, heck, even Hoyt's kind of cute in his own way.)
9. I love the clicking sound when the vampire teeth retract and extend.
10. This character.
Here's my
Survival Guide
until Season 4 premieres next summer.
1. Read the Sookie Stackhouse novels by Charlaine Harris (I just finished book four; there are currently eleven, and the books are funny and suspenseful, too).
2. Read and reread this issue of Rolling Stone magazine.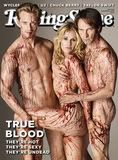 3. Drink
True Blood beverage
(I seriously have two in my kitchen pantry in case Eric stops by).
4. Dress like a Merlotte's waitress for Halloween this year.
5. Read the Vampire Diaries book and finally watch the eighteen episodes I have on my DVR.
6. Watch
Zoolander
(I have never seen it and I love funny movies. Oh, and Alexander Skarsgard is in it!)
7. Watch and groove to Snoop Dogg's music video titled,
"Oh, Sookie."
8. Visit
Bon Temps, Louisiana
on Spring Break.
9. Rent
Eclipse
when it finally comes out on DVD (I haven't seen it yet!!).
10. Give blood at church preferably in the evening so I can scan the area for thirsty yet non violent vampires (I actually already do that - well, the first part anyway).
Any other suggestions for me to get me through this difficult time? ;)