I cried, "Mo! Mo! Mo....concerts!"
Last night I enjoyed seeing two rock icons play live right in front of me. My friend Sue and I went to the Riviera Theatre to see Billy Idol and Slash rock it out. Of course we had to make our way close to the stage for an up close and personal (and LOUD) rock show.
Slash was first. Myles Kennedy (from the band Alter Bridge) was the powerful lead singer who sang songs from
Slash's solo album
plus Velvet Revolver and Guns N Roses tunes. So much fun! Todd Kerns was awesome on bass, too.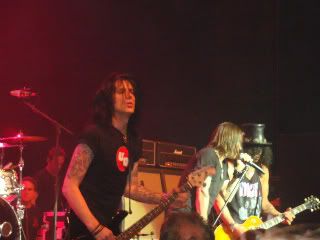 This was the third time I've seen Slash live. I saw him with GnR in the 90's and with Velvet Revolver about five years ago. He's such an amazing guitarist.
Here's one of the best guitar riffs ever!
Then came Mr. Idol. His lip was curled and his abs were six packed. This 54 year old can still rock it. He sang favorites like "Dancing with Myself," "White Wedding," "Flesh for Fantasy," and "Mony Mony" (Hey! Hey what!).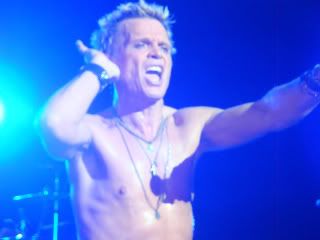 Rebel Yell!
These girls were grinning and rockin through the concert, and our ears are still ringing today!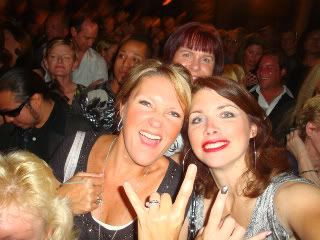 What's your fave Billy Idol or Slash song?