...stays together. Last Saturday was a momentous occasion in my oldest son's life. My mother-in-law and I took him to his very first rock concert. My first concert (REO Speedwagon and Survivor) was with my parents at age eleven. Now his first concert was at the age of four days shy of eleven. When I saw that 2/3 of his favorite bands (Disturbed and Avenged Sevenfold) were playing in the same festival, I knew I had to take him! The other main band playing (Stone Sour) also has the same lead singer and guitarist from another fave band of his, Slipknot, so that was an added plus.
The Rockstar Uproar Festival started at 3pm. We arrived at about 3:40 to make sure we received bracelets for the Stone Sour Meet and Greet. We also wanted to see one of the band playing on the side stage, New Medicine. This band I discovered on
Candyland's blog
recently!
We rocked out to New Medicine then waited in line in the hot sun for an hour to meet Stone Sour. It was so fun watching my son mingle with some of his fave musicians.
Here he is with Stone Sour/Slipknot guitarist, Jim Root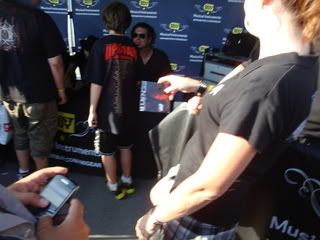 J-Man talking with Stone Sour/Slipknot lead singer, Corey Taylor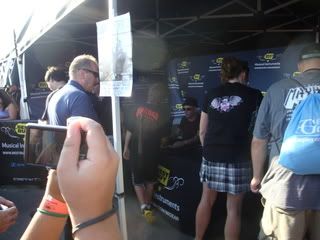 After the Stone Sour meeting, I ran to the New Medicine Meet and Greet and met the guys.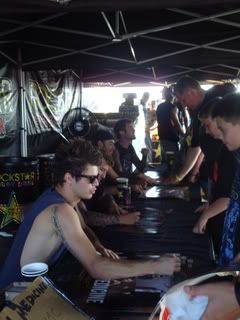 I said Hi to Brady, guitarist of New Medicine, for Candace Ganger! He was just as nice as Candace said he was.
See here
how Brady and Candyland raise money for women of Ghana.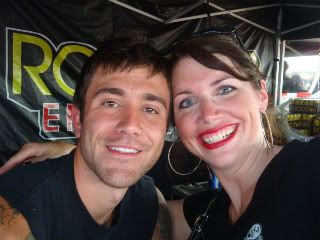 After being out in the sun for a few hours, we were ready to get some food and eat at our seats in the main ampitheater. We enjoyed the band, Halestorm, while we had dinner.
Then Stone Sour came on and I got to see my son headbang for the first time! He can scream the lyrics and throw the horns just like his mum. My fave songs were their newest single, "Say You'll Haunt Me" and "Through the Glass."
Here's a short clip of "Say You'll Haunt Me."
Avenged Sevenfold was next, my son's favorite band. The set was spooky and the music LOUD (I made my son wear ear plugs at the concert). Lots of fire and energy! They played some new songs and old faves like my favorite song of all time, "Unholy Confessions." Can you see the man dangling in the air? He bungy jumped and hung there for the first song! Creepy!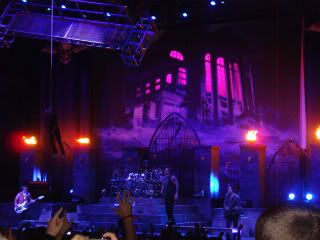 Here's a short clip of a fiery "Buried Alive."
Remember when my son and I did a Rock Band tribute for Avenged Sevenfold's drummer who passed away in December?
See it here
. Avenged also sang a tribute song called "So Far Away" for him at the concert.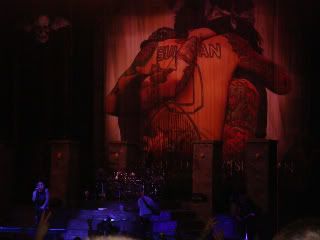 Disturbed, a Chicago band, was next. Excellent graphics in the background, and David has an amazing voice. My fave song of their set was "Inside the Fire." Their most popular song is "Down With the Sickness."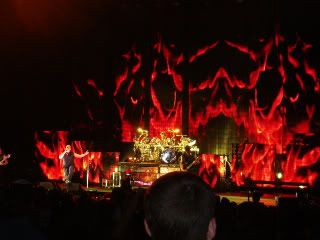 We left before Disturbed was done with their set since my son is a minor and we'd already had a long, fun day. Plus we could beat the crowd after the concert. We left exhausted and happy.
A day my son will remember for the rest of his life. His mom will, too.