Holiday festivities have begun! A Christmas party last weekend, my preschooler's Christmas program this morning, my daughter's class Christmas party this afternoon, a family get together tomorrow night and the list goes on.
Here's some easy and festive food fun for the kiddos.


1/2 cup dry oatmeal
1 TB red and green sugar crystals or glitter
Mix up!
Write on the bag...
Sprinkle this reindeer food out tonight.
The moonlight will make it sparkle bright.
As the reindeer fly and roam,
this will guide them to your home.
Fun holiday food for kids:
Here's a nutritious and fun snack that I make throughout the year for my kids. For the holidays, I use green and red jello. I brought this to my daughter's class party today.
Cantaloupe Jello Slices
1. Cut cantaloupe in half and spoon out seeds. I put the cantaloupe halves in a bowl to keep them steady.
2. Boil one cup of water, mix boiling water with one 3 oz package of Jello gelatin.
3. Let cool five minutes then fill holes of cantaloupe with jello water.
4. Put in refrigerator for four hours or more to firm.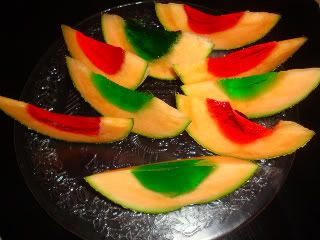 Love this quote:
The best of all gifts around any Christmas tree: the presence of a happy family all wrapped up in each other. - Burton Hillis
Have a blessed holiday!