I love to laugh, and I'll share some things that made me giggle this week.
1.
Rihanna and Shy Ronnie

Did anyone watch SNL last night? I watched the first fifteen minutes or so and this SNL Digital Short made me laugh. Andy Samberg is always so funny, and Rihanna has an incredible voice. This is goofy, but the song is actually pretty catchy, too. I can't get this song out of my head. Now I'll be singing "Speak up!" for days. (the clip is PG-13)
2. MLIA
Adrienne
posted about this
My Life is Average
website and I've checked it several times since. It cracks me up. A sample MLIA post:
"Today I got a papercut opening a Bandaid box. MLIA."
3. I've mentioned that the tv show,
The Soup
, makes me laugh every time I watch it. Another favorite is
How I Met Your Mother.
My third favorite comedy show this year is the new one,
Modern Family
. Anyone else watch it? The dad is deadpan funny!
4. My pups
I dressed up my dogs for a holiday picture. Don't they look cute? My son said it was animal cruelty to do this to them, but it made me laugh anyway. But I only made them wear these silly outfits for ten minutes. Daisy, my puppy, really did act like she was humiliated, so I felt slightly bad. Goofy, my old dog, didn't mind, but probably because she's blind and didn't realize how ridiculous she and Daisy looked!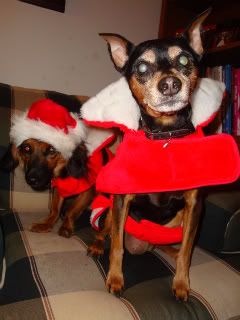 5. Tabitha at Writer Musings is having an amazing book giveaway. Go to
her blog
and comment and/or follow and you can win one of three piles of awesome books!! That will make you smile!
What made you laugh lately?