I spent the last eleven days up in the northwoods of Wisconsin. Way up there. I've been going up there each summer all of my life. Now my children enjoy the same serene lake and family time that I used to. I love watching them enjoy the exact same things that I used to at their ages. It's great to get away from our busy routine of home.
We started our vacation with cousins on my husband's side and had lots of giggles. My two oldest kids' even went tubing for the first time. We played Pass the Pigs with extra silly rules. We had a great Wisconsin fish fry.
We then went to my dad's cabin where we shared nature at its best. My kids spent hours upon hours fishing and catching frogs at the lake. My sister and daughter even kissed a frog, but alas it didn't turn into a prince. My youngest son caught his first pike. My daughter caught bluegills and a perch. My oldest caught pike, walleye, and bass. My hubby and dad caught big, big muskies (48 inchers among them) and were downright giddy about it. We went mini golfing (I stink). We read (I read
The Shack
and
The Forest of Hands and Teeth
by Carrie Ryan-I couldn't put it down!). We played board games (Pass the Pigs, Earthopoly, Fishin-opoly). We watched kids movies (
Race to Witch Mountain
,
Madagascar 2
and the same
Wizards of Waverly
episode on the Disney channel a hundred times). We saw lots of animals (our dogs, the new puppy next door, loons, herons, bald eagles, bats swooping at me head, deer, froggies). We also went to the Freshwater Fishing Hall of Fame (see huge musky in top pic).
We also took walks among the beautiful pines and along the lake. On one walk, the kids and I found the following things in alphabetical order on what we called our ABC walk.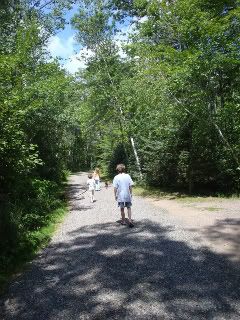 ABC walk
A acorn, ants
B birch tree, bald eagle
C cracked branch, crinkly leaves
D dog, dead tree
E evergreen, echo
F flower, frog
G gravel, grasshopper
H high voltage sign, hole
I icky rabbit poop, irksome bugs
J jagged rock, jumbo tree
K kicking sand, knotted ribbon
L lake, ladybug
M mushroom, mailbox
N needle from pine tree, nine ferns
O orange leaf, oak tree
P pinecone, plants
Q quiet butterfly, quick blue heron
R rocks, raspberries
S steep hill, stump
T totem pole, twig
U undergrowth, under average rainfall
V violet flower, very fast hummingbird
W water, weeds
X eXotic moss, eXtra special walk
Y yellow boat sticker, yard
Z zen, zinnias
It was a great vacation, but it is good to be home.