Last night I had a wonderful evening with my two besties. My best friends since grade school (we grew up in the same neighborhood) and I went to Ravinia for a Pat Benatar/Blondie concert. A perfect girls night out.
Ravinia is a different concert venue. There is a pavilion, and there is a lawn where you can set up a table and chairs to enjoy the concert. We sat in the lawn, brought chairs, coolers and a mini table and enjoyed the musical night under the stars.
The Donnas opened the night. They were fun, though I am not familiar with any of their songs. Pat Benatar was next. She has so many hits like "Heartbreaker," "Hit Me With Your Best Shot," and "We Belong." She has an amazing voice. Did you know that the second Mtv video to air on the day it was launched was Pat Benatar's "You Better Run"?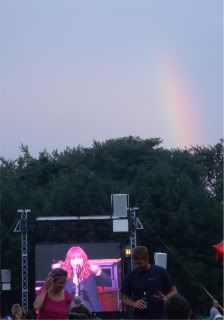 Blondie was last. Can you believe that Debbie Harry is 64 years old?! Her voice sounded great. Love the old tunes. It was fun to see two female powerful, beautiful pioneers of rock in one night.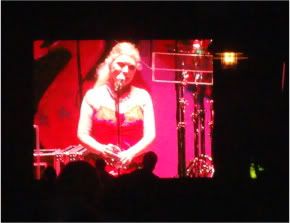 So today we have two tunes from the eighties. And by the way, yes I intended to look like a chick from the eighties last night. (I was even rocking a side ponytail.) When I got home at midnight, I said to my husband, "Guess how many people dressed up like the eighties tonight?" He answered, "One." And he was right! Just little old me.
Here is my favorite Pat Benatar song, "Promises in the Dark."
Here is my favorite Blondie song, "Heart of Glass."