Today is the

Be Jolly By Golly Blogfest

, hosted by Jen and Melissa! Check
here
for more fabulously festive links!
This year my house isn't as decorated as ushe (how do you spell the short word for usual?!), because my house is for sale. But here's a peek at our tree!!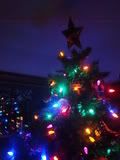 You only get a peek, because I have a string of lights that are out. And because I've already been to the store twice to replace other LED strings this year, I refuse to go again! It's the principle (and it's cold outside)! My three kids love to help me decorate the tree each year. We put on the Christmas carols (My Chem, Smashing Pumpkins, Weezer, Elvis, and other rockin' tunes of course), trim the tree, and then have hot cocoa.
Our front lawn is sporting our Polar(k) bears, but no other lights outside this time.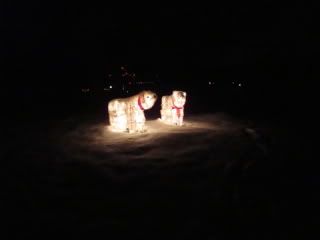 For a giggle, check out these hilariously crazy nativity decorations at
List of the Day blog
.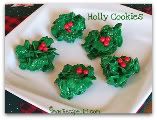 For a special treat, I make these easy

Holly Cookies

that my kids love. You can also make them into the shape of wreaths, but glopping a spoonful on the wax paper for the holly is much easier than shaping a wreath. It's busy this time of year, you know!
Here's the recipe:



32 large marshmallows
1 stick butter or margarine
1 1/2 green food coloring
red cinnamon candies (my kids don't like those, so I use red sugar sprinkles)
Heat butter and marshmallows to melt. Pour over 3 1/2 cups cornflakes. Stir. Set on greased wax paper. Add red candy. Eat it up!
Here is my favorite holiday tune, "Do They Know It's Christmas?" My fave part is the Simon LeBon part. (I'm a rocker who loves Duran Duran you know!)

Have a wonderful holiday with your family and friends. See you next year!