ROCK N ROLL
I finally got my concert fix Friday night (it's been 3+ months, people). My friend Sue and I ventured out to see
Candyland
favorite
New Medicine
with American Idol rocker, James Durbin. I've seen New Meds before, and yes, Candace is right, they do indeed rock. And yes, Brady is a sigh-worthy bassist. The girl don't lie! And he's as sweet as can be; he had just returned from Ghana a few days before the concert.
Here's James Durbin.
A couple of rock chicks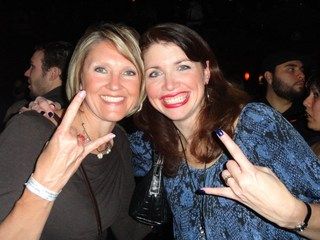 LITERARY LAUGHS
Okay, if you are one of the few who didn't see the Colbert Report with author Maurice Sendak, you must watch. It is flippin' hilarious! Love his candor. He even sings! And Stephen Colbert makes me laugh pretty easily anyway.
Check it out here
. Definitely worth your time.
OTHER DANG GOOD STUFF
Thank you again to Nutschell! I won a signed Ellen Degeneres book at her blog! Yes, I'm one lucky girl!
A poem of mine was accepted for a summer issue of Stories for Children magazine. I've switched gears for the last month (and next month) and have been concentrating on poetry and picture book writing instead of middle grade. I think it's good for my creativity to mix it up a bit!
Please check out Book Recs of the Rock & Famous at
http://www.bookrecsthatrock.blogspot.com
today. I have one of my favorite actors ever chatting books with me. He played my best loved literary character in a movie. Any guesses?? (Again, I'm one lucky girl!)
Have a fabulous week, you! Thank you for stopping by!