What's better than a concert? A FREE concert! Last week my sister and I attended the SummerKrush concert in Chicago. It was seriously free for everyone and sponsored by Samsung. We saw Bush and Chevelle, two bands that are frequently played on my iPod. This is the third time I've seen Chevelle and first time for Bush (though I've seen Gavin Rossdale solo before). Even though the venue was packed and super sweaty, we jumped up and down and sang along to all the great Bush (like "Comedown" & "Glycerine") and Chevelle (my fave -"Send the Pain Below") hits plus some new songs.
Here's a few pics of Gavin, lead singer of Bush (also husband of Gwen Stefani).
He's British (and ripped) so he can wear this.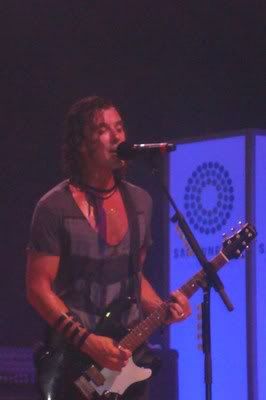 And I told you it was hot and sweaty in there!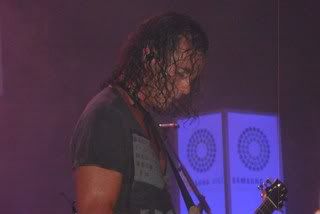 The best part was that the bands gave us a few writing tips while we were there! Listen and learn...
(and speaking of writing tips, did WRITEONCON rock, or what?!)
Okay, I tried. I just wanted to show some cool clips from the concert. :)
And did you notice my new rockin' banner up top? A big thank you to Jon Arntson! He made it for me!!