Last night I went to a -yeah, you guessed it - a concert! I rocked it to My Chemical Romance and Neon Trees. It was the second time I've seen both of them in concert. My friend, Sue, and I arrived to the venue a little early and snagged a close spot to the stage. The crowd was 95% teens and also parents with their preteens. And then there was us (though my 6th grade son was mad I didn't take him! But I'm taking him to another concert in a few weeks).
Both Neon Trees and My Chemical Romance were amazing. Neon Trees played from their debut album, MCR mixed both old and new songs. My legs are killing me from dancing!

This is Tyler Glenn of Neon Trees. You've probably heard their song, "Animal."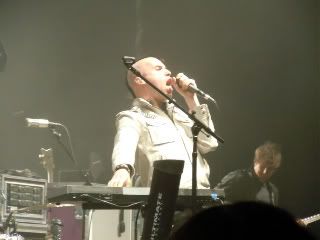 Gerard's vocals were on, and I loved watching Frank Iero shred on the guitar right in front of us!Here's My Chemical Romance lead singer, Gerard Way. Many teens came to the concert with red hair like Gerard. He's a cutie, don'tcha think?!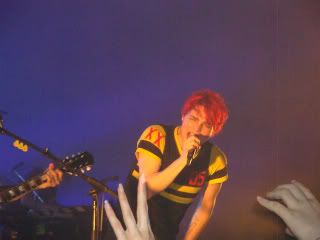 Here's a short clip of Planetary Go! montage. It's a great dance song. Love these lyrics!

If my velocity starts to make you sweat, then just don't let go...I can't slow down; I won't be waiting for you. I can't stop now, because I'm dancin'!...Blast it to the back row!

Tonight I rock it with Carolina Valdez Miller! We're going to the 30 Seconds to Mars concert. Some guy named Jared Leto is lead singer. I heard he's kind of cute, too...and there's a theme night for this one: Blood Ball! There are going to be some crazy pics on the blog tomorrow!

Also, My Chemical Romance has created a web page at singitforjapan.com with this song below and ways to donate and help Japan. You can also buy this song on Itunes -proceeds go to relief for Japan. What nice, talented guys, huh?