Aloha my friends! Okay, wrong tropical paradise, but hello all the same!
I recently returned from a fabulous family vacation to Paradise Island in the Bahamas. We stayed at the Atlantis resort that has everything an adult or child could wish for in a trip: several pools, ocean beaches, secluded lagoon beaches, variety of restaurants, kids club, dolphin encounters, shopping, casino, huge salt water fish tanks, snorkeling and other water sporty fun, water park & slides, and SUN! Needless to say (but I'm going to say it anyway), we loved it and had a fabulous time. My inlaws, hubby, three kids and I had great family fun in the warm Bahama sun! I even had time to read
The Dark and Hollow Places
by Carrie Ryan and
The Liar Society
by Lisa and Laura Roecker - both excellent page turners!
Here's a few fun pics from vacation, and this week I'm looking forward to catching up on your blogs!
I kissed a dolphin and I liked it. The seven of us loved our dolphin encounter. We all got to hug, kiss, and watch our dolphin, Missi, do tricks. She even headbanged with me! Not kidding!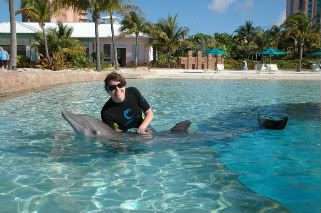 My sweet kiddos at the beach.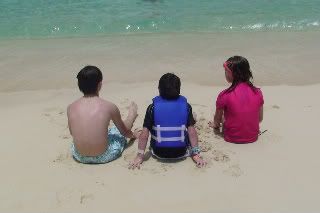 I even went to an author signing! This is me and author/actress Carolyn Hennesy. She signed
Pandora Gets Jealous
for me from her popular Pandora middle grade series.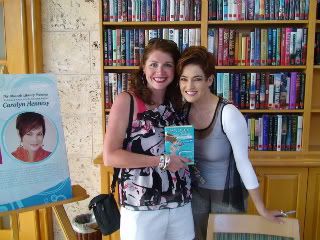 And another view from our room.
Have a fabulous week! I'll be applying and reapplying lotion to try and keep my tan as long as I can!