Are you dressing up for Halloween this year? This photo is of me and my two best friends in third grade. We are still besties today! See, I have always liked vampires. Somehow I don't look as hot as Eric Northman or Edward here though.... Everyone has an awkward stage, you know!
With all of my packing, organizing, and trips to Home Depot, and juggling the kids' schedules I do feel more like this lately: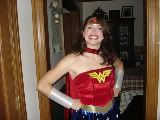 Here are a few of my favorite Halloween funnies to join the silly pictures.
Why did the ghost do to the bar? For the booooo-ze.
Why do demons and ghouls hang out together? Because demons are a ghouls best friend!
Why doesn't anybody like Dracula? He has a bat temper.
Do you have any funny Halloween jokes to add?
I have two tunes for Tuesday for your Halloween listening pleasure, both zombie related.


Thuggish cartoon disco metal band, Uncle Rotter, joined up with fellow Manchester gothic industrial band, Resist, for a charity single for Zombie-Aid.
The Zombie-Aid single will be released on October 25th in the aim of reaching the No1spot in the charts for Halloween. The single will be available for download from major online stores such as Amazon, HMV, Play.com, iTunes and 7Digital.
All money made from the single will be going to UK charity, Make-A-Wish Foundation, who grant magical wishes to children and young people fighting life-threatening illnesses.
Check it and you will be singing, "Zombie!" all day long!
My second tune today is by Rob Zombie. I just love this song, and the video is creepy, yet funny!
Dig through the ditches and burn through the witches and
slam in the back of my DRAGULA!
HAPPY HALLOWEEN!