I have been revisiting S.E. Hinton in the last month. My son and I read
The Outsiders
together. I then reread
That Was Then, This is Now
. I intend to revisit other favorite Hinton books this summer and read her newest book as well . Read my Spreading the Awesome post about S.E. Hinton
HERE.
One thing I loved about
The Outsiders
main character Ponyboy Curtis was his love of poetry. This greaser from the wrong side of the tracks could recite poetry. So today's poem for Poetry Friday is the Robert Frost poem, "Nothing Gold Can Stay."
NOTHING GOLD CAN STAY
Nature's first green is gold,
Her hardest hue to hold.
Her early leaf's a flower;
But only so an hour.
Then leaf subsides to leaf,
So Eden sank to grief,
So dawn goes down to day
Nothing gold can stay.
-Robert Frost
Check out Ponyboy (played by C. Thomas Howell) reciting the poem in
The Outsiders
.
Here are some other interesting facts related to this poem and T
he Outsiders
that are also (shocker!) music related. I learned some of these facts from
this site
.
1. Like I mentioned in the Outsiders post, Josh Todd,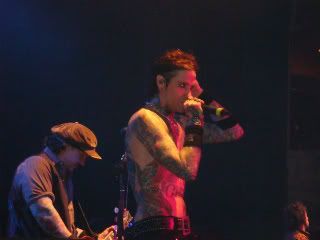 the lead singer of Buckcherry, has "Stay" tattooed on his right knuckles and "Gold" tattooed on his left knuckles. (sort of like Anita and Tina's tattoos! ;)
2. Pete Wentz, guitarist of Fall Out Boy, quotes "Stay Gold" on his upper right arm in ink. His clothing label, Clandestine Industries, also has has some items with "Stay Gold" on them like
this
.
3. In The Killers' song
"Smile Like You Mean It,"
a lyric says "Looking back at sunsets on the East Side".
4. Bowling for Soup has an album named Let's Do It for Johnny!.
5. Comedian Julie Brown's eighties novelty hit "The Homecoming Queen's Got a Gun" ends with, "I did it for Johnny," as the explanation of her killing spree. (Sidenote: I also held a squirt gun and sang this on a float during my high school homecoming parade. These were times before real school shooting sprees obviously.)
Kelly at the Cazzy Files
is hosting Poetry Roundup today. Click to her blog to find more wonderful poetry links. Next week the roundup will be here!